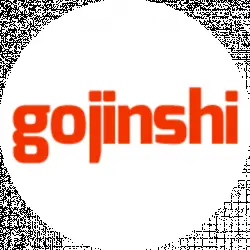 Latest posts by Gojinshi Team
(see all)
You know a genre is unique when it makes "love" and "laugh" natural fit for the development of a romance between two characters, leading to humorous and dramatic situations. These are the reasons why the romantic comedy genre is one of the most popular genres out there. A good romantic comedy anime offers an iconic love story and the humor that comes with it as an addon bonus. There's nothing like a good delightful rom-com anime that is enjoyable and rewatchable over and over again.
You just can't beat a good love story that offers a healthy dose of laughs and dramedy, it's a win-win all around. Rom-com with fruitful chemistry, characters made for each other, and compelling narratives is sure to please any anime fans who are feeling nostalgic about romance in the real world.
If you are looking for a great rom-com anime that'll free you from the real world and keep you hooked to the satisfying anime love stories with light-hearted sitcoms, then you have come to the right place. Here's the list of best romantic comedy anime that you should watch right now.
Best Romantic Comedy Anime:
01. Toradora!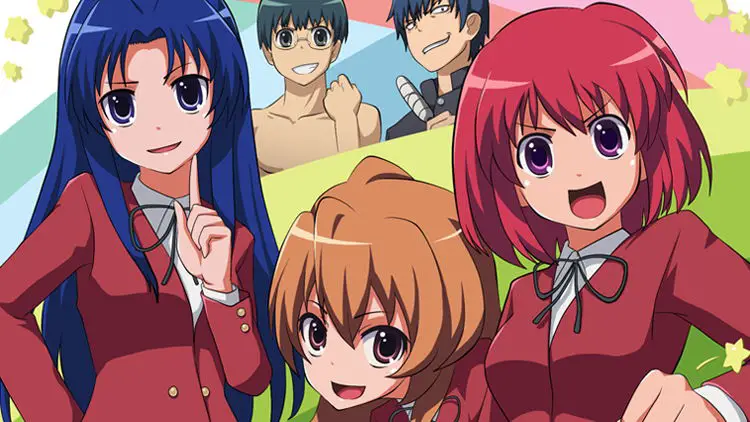 Ryuji Takasu is a high-school student with a gentle nature who loves cooking and cleaning. However, due to his intimidating appearance, people avoid him, often mistake him for a delinquent.
Taiga Aisaka, a petite girl, is the exact opposite of Ryuji. Despite her small stature and innocent appearance, she is violent and fiery. After discovering that they both have crushes on each other's close friends, both decide to help each other out.
02. Sakura-sou no Pet na Kanojo (The Pet Girl of Sakurasou)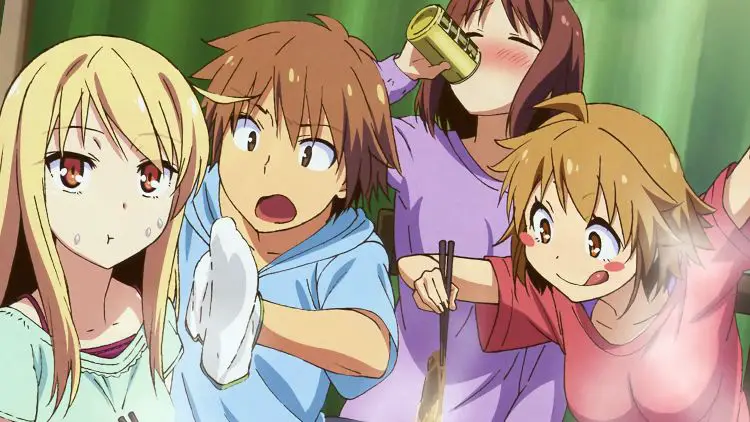 Sakura Dormitory is a dorm of the high school affiliated with Suimei University of the Arts. It hosts the strangest, eccentric students. Sorata Kanda moves into Sakura Dormitory after being kicked out of the previous dorm for keeping a stray cat.
As Sorata was starting to enjoy his life at the dorm, Mashiro Shiina, a world-famous artist, moves in the dorm as a resident. Mashiro is looking to become a mangaka and strangely knows nothing about taking care of herself besides drawing. Being the second newest resident at the dorm, Sorata is now responsible for taking care of Mashiro.
03. Arakawa Under the Bridge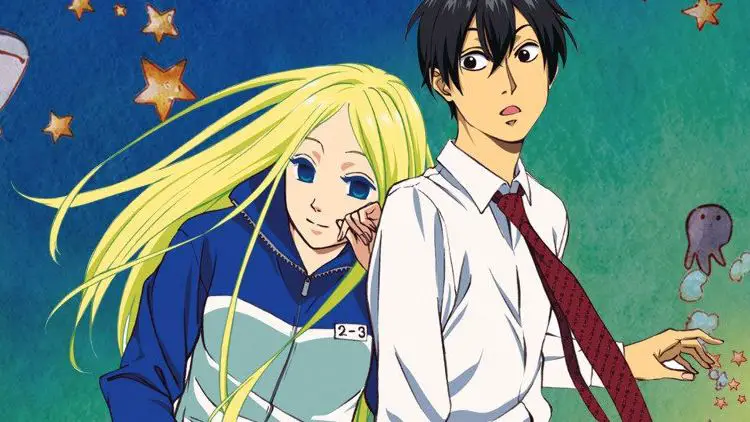 Kou Ichinomiya, the heir to the prestigious Ichinomiya Company, has never been indebted to anyone in his 21 years of life. One day, he falls into the Arakawa River, and a strange blonde-haired girl named Nino saves him.
Unable to accept that he is indebted to Nino, he asks her how he can repay her. She says that she wants to fall in love and asks Kou to become her boyfriend. Thus Kou starts his life living under the Arakawa Bridge with a bunch of eccentric misfits.
04. Wotakoi: Love is Hard for Otaku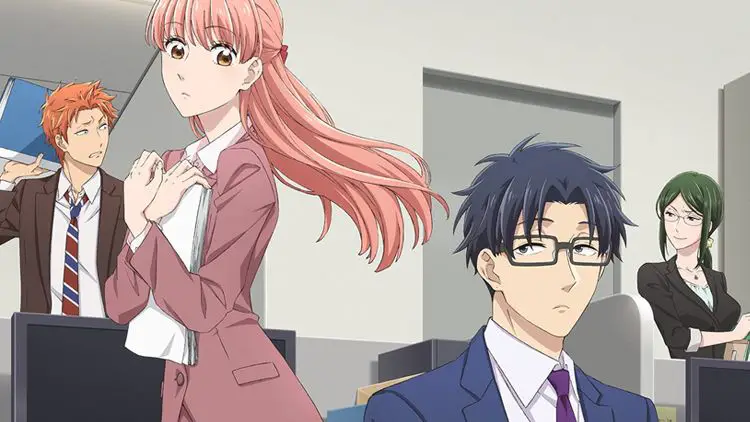 Narumi Momose's boyfriend recently dumped her after finding out that she is an otaku. Narumi decides to go great lengths to hide it, even quitting her previous job. On her first day at a new job, she reunites with her childhood friend Hirotaka Nifuji, an otaku and her new colleague.
Now, afraid that Hirotaka might reveal her secret, she invites him for drinks after work. At the bar, she asks him to keep her secret hidden. Instead, Hirotaka suggests that she should date someone who shares the same hobby as her and asks her out. Thus begins their life balancing a new romantic relationship and otaku lifestyle.
05. Ore Monogatari!! (My Love Story!!)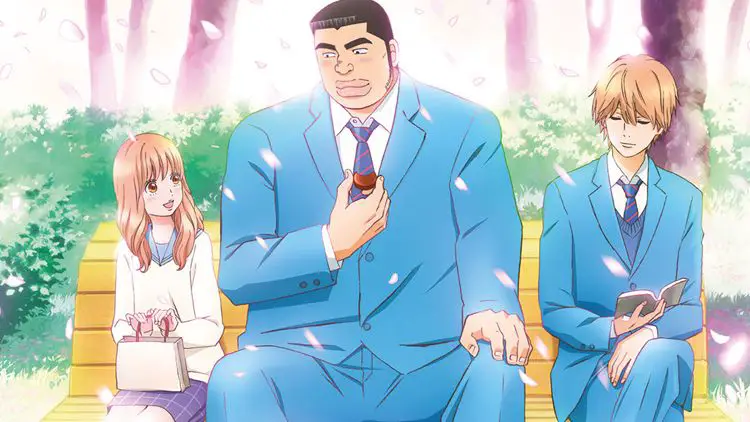 Takeo Goda is a high school student who is tall, muscular, and enormously huge for his age. But he has an incredibly kind and friendly personality. However, all the women he falls in love with are attracted to his best friend, Makoto Sunakawa.
But it all changes one day when he saves Rinko Yamato, a petite school girl from a train groper. Eventually, Rinko proposes Takeo and reveals her feeling for him. Thus begins the love story that changes Takeo's life forever.
06. Lovely Complex
Risa Koizumi and Atsushi Ootani are high schoolers with a height complex. Risa is taller than the average girl, and Otani is shorter than the average boy. Due to cartoonish height differences, both of them are popular comedy duo at the school.
Any argument and quarreling between them become a laughing stock for others. However, there's a boy that Risa likes, and Otani also likes a girl from the same school. They both decide to make a truce and help each other get their crushes.
07. Mikakunin de Shinkoukei (Engaged to the Unidentified)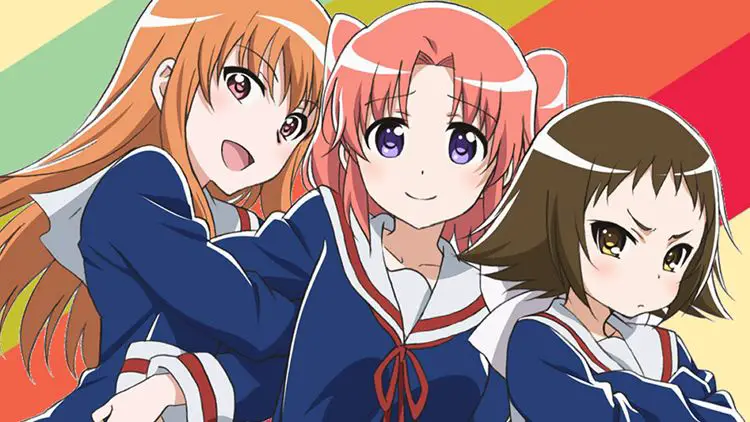 Kobeni Yonomori is a high school girl who lives with her mother and annoying older sister Benio. She has just turned sixteen and learns that she is engaged to a boy named Hakuya Mitsumine.
Due to her late grandfather's arrangement, Hakuya moves in to live with Kobeni along with his little sister Mashiro. All of a sudden, she has to deal with her mysterious fiancé and adjust to living with a new family member, while dealing with her crazy sister Benio.
08. Seto no Hanayome (My Bride is a Mermaid)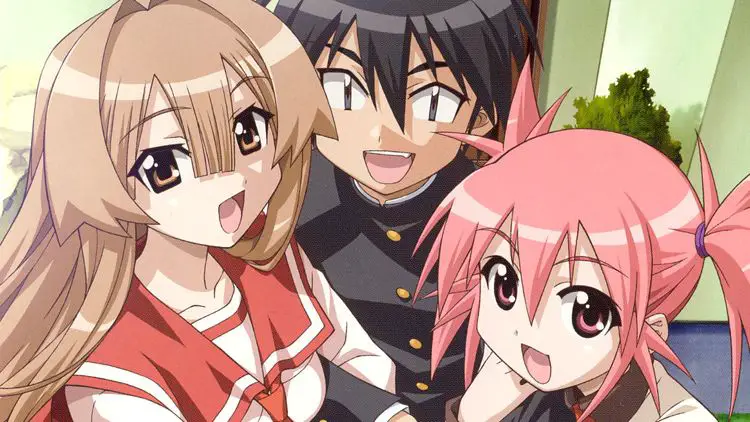 One summer, during his vacation at Seto Inland, Nagasumi Michishio, starts to drown in the ocean while swimming. Luckily a mermaid named Sun saves his life. However, under Yakuza mermaid laws, humans must be executed once they see a mermaid.
Nagasumi now must either die or take responsibility by marrying Sun. Leaving Nagasumi no choice, he agrees to marry Sun. Soon he finds his house and school life invaded by undersea gangsters as he tries to adjust to his new life as a groom to a mermaid.
09. Golden Time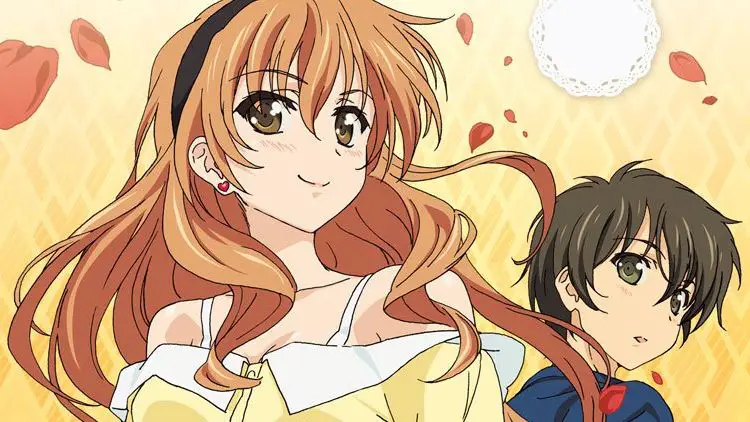 Due to an accident, Banri Tada lost all of his memories of the past. Banri decided to start over and begin a new life at law school in Tokyo. There, he meets and befriends Mitsuo Yanagisawa, which leads him to his beautiful childhood friend, Kouko Kaga, obsessed with marrying Mitsuo.
After being fed up with Kouko's obsessive behavior, Mitsou decides to live alone. But Kouko follows him and joins the same university as him. Done with Kouko, Mitsou bluntly rejects her. After bottling his feelings for Kouko, Banri ends up confessing to Kouko. From here begins a new relationship for someone who doesn't remember his past.
10. Nyan Koi!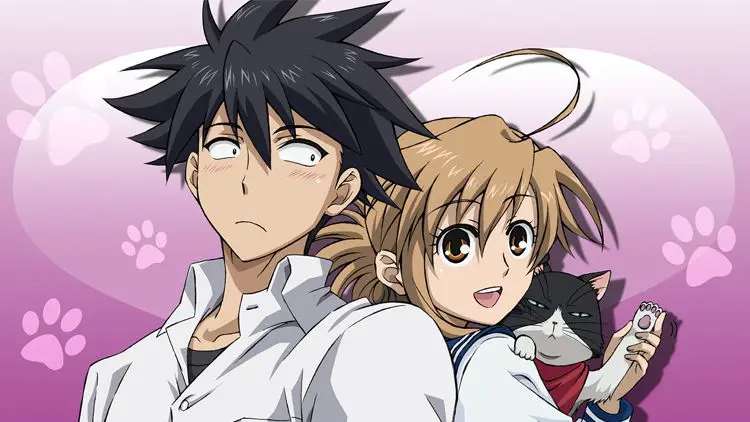 Junpei Kousaka is a high school student allergic to cats. Unfortunately for him, his crush Kaede Mizuno is a cat lover. One day, while walking home from school, Junpei accidentally breaks the statue of a cat deity, and now due to a curse, he's able to understand cats.
Cats tell him to make up for what he did to the statue by granting their hundred wishes. If he doesn't fulfill every wish, he'll turn into a cat and die of his allergy. Left with no choice Junpei now must grant one hundred wish of different cats to lift the curse.
Find more interesting animes to add to your watchlist by checking these guides below:
10 Best Gambling Anime You Should Watch Right Now
10 Best Ecchi Manga You Should Read Right Now
10 Best Underrated Anime You Should Watch Right Now