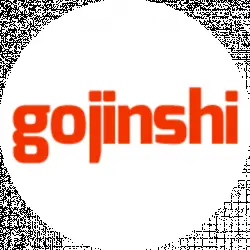 Latest posts by Gojinshi Team
(see all)
Many great fantasy series often occur in the medieval period. And no matter where the story takes place, you will still find elements such as nobility, swords, shields as well as mythical creatures, and magic. Medieval anime also relies on western cultural influences to make them more real. But some shows also base their story on the eastern counterpart such as the Edo period.
The contemporary take on kings and queen's time keeps medieval anime stories feel fresh and new. While medieval anime is interesting, it's the medieval fantasy subgenre that attracts fans to the exciting world-building that medieval period offers. Many anime in this sub-genre are plot-driven and use the medieval setting and its cultures to give a high level of fidelity to the shows.
With so many shows that have their take on this period, it gets cliché and done to the point of boredom. Which leads to the question of how to avoid something that's just a forgettable and find something tangible and compelling? If you are someone who loves anime placed in a medieval period, then here's the list of best medieval anime that you should watch right now.
Best Medieval Anime
01. GATE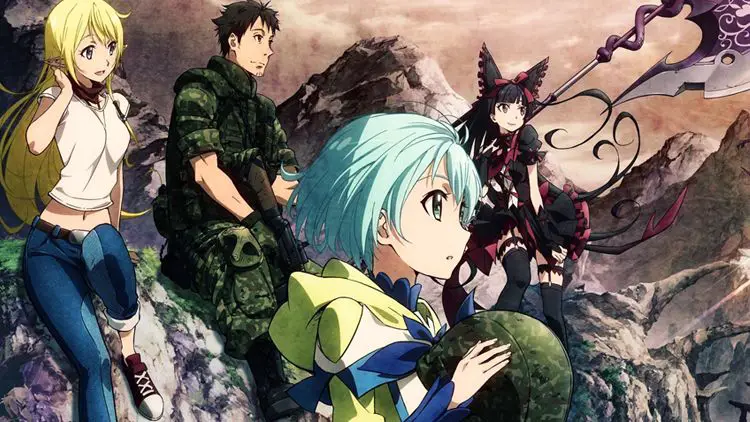 Buy/Stream On: Crunchyroll, VRV, HIDIVE
Youji Itami is a JSDF officer and an otaku who only likes to work to support his hobbies. One day, while on his way to attend a manga convention in Ginza, Tokyo, out of nowhere, a mysterious gate appears opening a portal to another world.
An army came out of the gate and started attacking the people. Shortly after the incident, the counter-attack by the JSDF sent back the attackers. For his actions, with helping the JSDF, Youji gets assign to enter the gate and establish diplomatic relations with the other world.
02. Arslan Senki (The Heroic Legend of Arslan)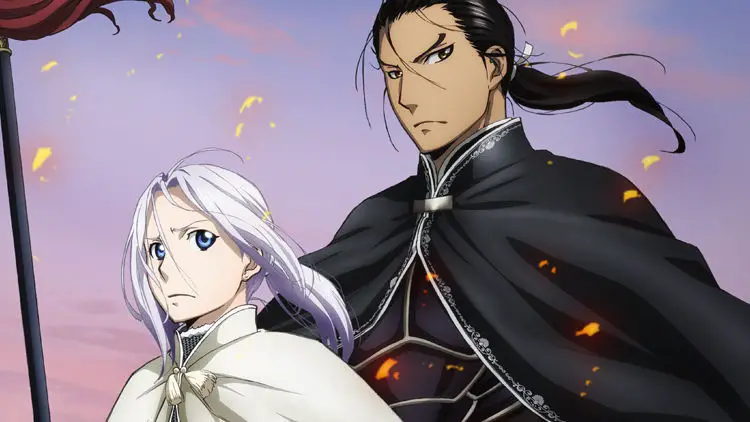 Buy/Stream On: Funimation, Amazon Prime Video
In the prosperous kingdom of Pars lies the Royal Capital of Ecbatana, ruled by King Andragoras. Arslan is the young crown prince of Pars. He goes to his first battle between the Lusitanians and Parsians to prove that he has what it takes to be a proper king.
But the army faces defeat due to betrayal by one of their own. Pars' capital city was captured and claimed by Lusitanians bringing Arslan to face the crumbling of his kingdom. However, Arslan's destiny is to be a ruler, and despite the obstacles that he faces, he must now start on a journey to regain his fallen kingdom.
03. Ookami to Koushinryou (Spice and Wolf)
Buy/Stream On: Funimation
In the town of Pasloe, the annual pagan ceremony of the harvest is a way to offer honor to the god of the harvest. Craft Lawrence, a traveling merchant, decides to rest in the town and celebrate with the folks.
The next day, Craft founds a girl sleeping in his carriage. The girl calls herself Holo. She is a wolf-girl who happens to be the god of the harvest. Holo offers business advice to Craft, which she learned after living for centuries in return for a ride back to her homeland.
04. Madan no Ou to Vanadis (Lord Marksman and Vanadis)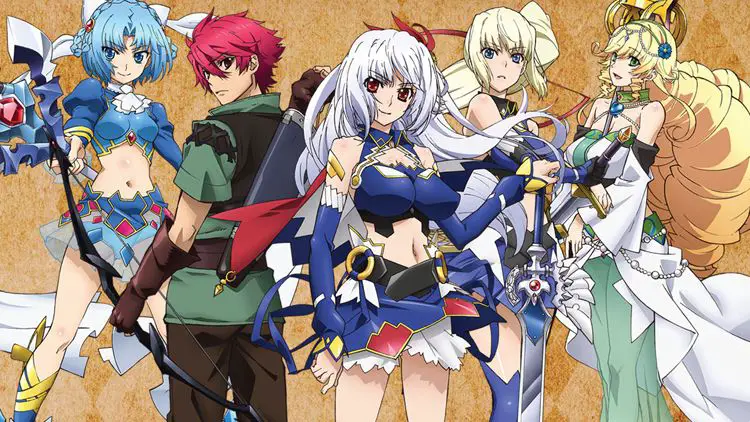 Buy/Stream On: Funimation, Amazon Prime Video
In western Europe, there are seven Vanadis, each possessing a powerful weapon from the Black Dragon to reign over Zhcted's seven regions. Eleonora Viltaria is one such Vanadis and swordswoman ruling the neighboring country of Zhcted.
Eleonora launches an attack against their rival country of Brune and brutally defeats them. After being defeated, Tigrevurmud Vorn, a sole survivor, was spared for his life by Eleonora in exchange to serve her.
05. Vinland Saga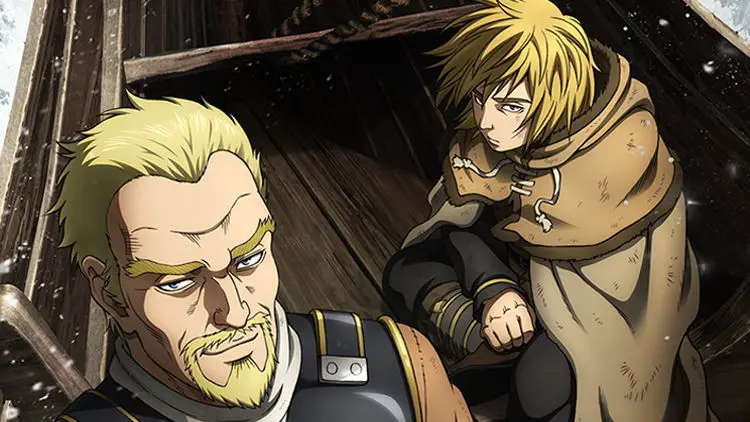 Buy/Stream On: Amazon Prime Video
In an early eleventh century, the Viking commander, Thors Snorresson, quit a sea battle and began to live a peaceful life in Iceland with his wife, daughter, and son Thorfinn. One day, Jomsviking Floki arrives at Thor's village to murder him for deserting the Viking army years ago.
Thors decides to take the fight elsewhere. But a band of mercenaries led by Askeladd attacks him and eventually kills him. Thorfinn witnesses his father's death and makes it his life's mission to kill Askeladd by joining his crew. Thorfinn wants an honorary battle and continuously challenges Askeladd in a duel to the death.
06. Dororo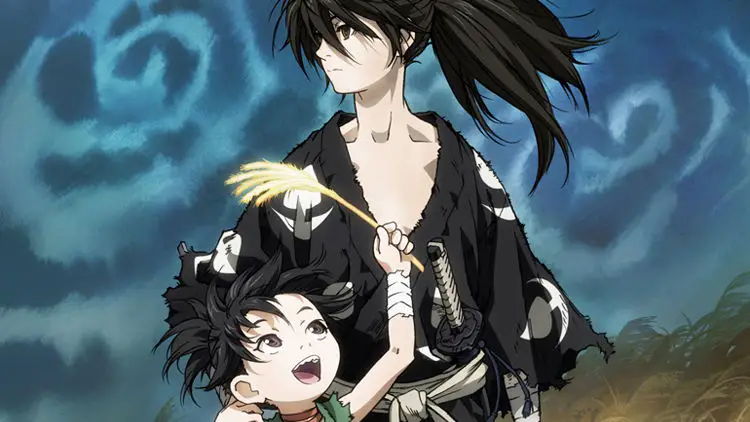 Buy/Stream On: Amazon Prime Video
Hyakkimaru was born as a child of sacrifice, with most of his body parts missing due to a curse. His father forged a pact with 48 sealed demons to save his land in exchange for Hyakkimaru. Hyakkimaru was abandoned and left to die by a river.
However, a prosthetics doctor founds him down the river. The doctor builts him a prosthetic body and raises him. Hyakkimaru now wanders Japan hunting demon. Each demon he slays, a part of his body regrows. Along the way, Hyakkimaru meets a cunning little thief named Dororo, who accompanies him on his journey.
07. Maoyuu Maou Yuusha (Maoyu – Archenemy & Hero)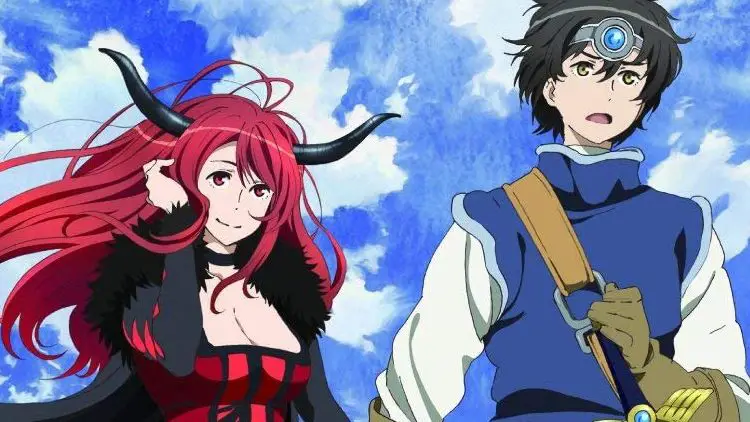 Buy/Stream On: Unknown
For a long time, the human world and the demon world, have been at war with each other. Humans' greatest warrior, the Hero finally arrives at the demon lord's castle to slay the king and bring peace to the world. However, soon after his arrival, he finds that the demon king is not what he expected.
The demon king is a beautiful girl named Mao who asks for his help to end the war. She wants to make the world a better place for both humans and demons. After a lengthy discussion, The Hero decides that the only way to bring peace was to join forces with the Mao and agrees to help with her plans.
08. Seirei no Moribito (Moribito – Guardian of the Spirit)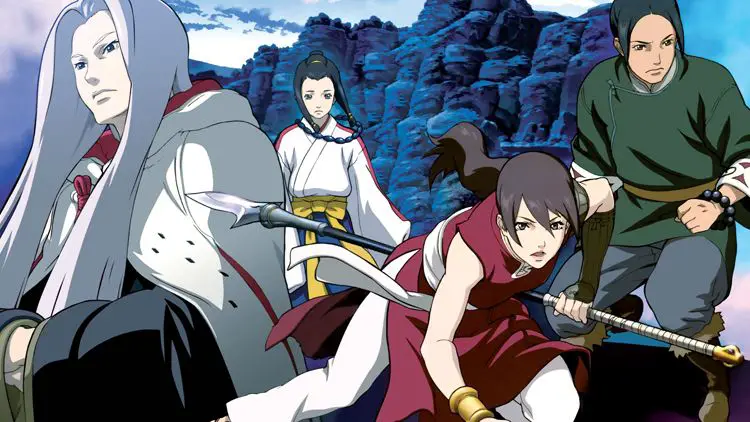 Buy/Stream On: Tubi
Balsa is a wandering warrior who wields a spear. To atone redemption for the eight deaths in her past, she vows to save an equivalent number of lives. One day, her life changes unexpectedly when Queen of New Yogo Empire hires her as a bodyguard for the second prince Chagum.
A water demon that would cause catastrophe to the New Yogo empire possesses Chagum's body. Chagum's father and the king have made several assassination attempts on the prince. Now it's Balsa's responsibility to protect and travel uncertain journeys with Chagum to ensure his survival.
09. Seiken no Blacksmith (The Sacred Blacksmith)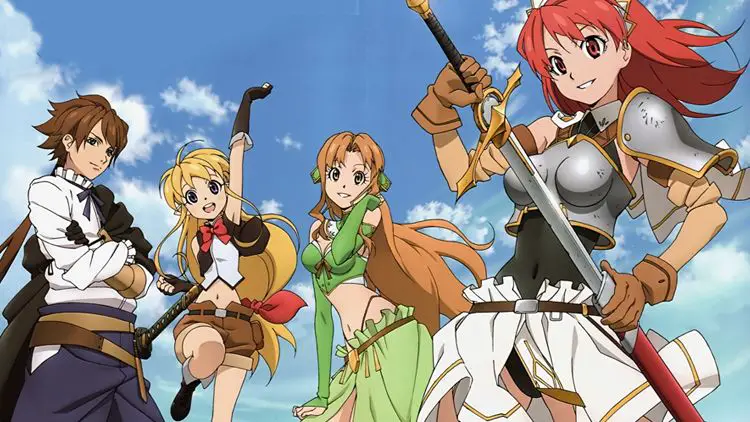 Buy/Stream On: Funimation
As the newest head of the prestigious Campbell household, Cecily Campbell wants to become a Knight Guard and defend the weak. Still, her lack of skill makes her an unlikely heroine. One day she was attacked by a crazed soldier. Fortunately, the sacred blacksmith Luke Ainsworth saves her
Luke is a well-known blacksmith who uses magic to forge blades of supernatural strength capable of even defeating demon lords. Cecily is impressed by Luke's skill and asks him to make a sword for her. However, her involvement with Luke will bring an adventure she never expected.
10. Magi: The Labyrinth of Magic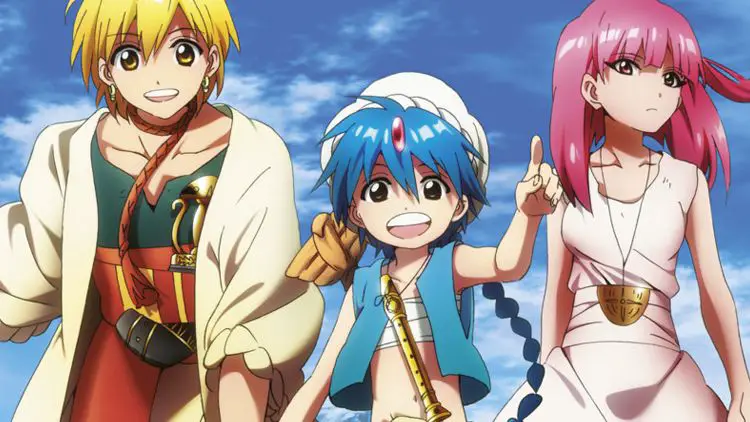 Buy/Stream On: Crunchyroll, VRV, Funimation, Netflix
Aladdin is a mysterious boy who travels the world with his Djinn friend, Ugo. One day, he meets Alibaba Saluja, a young man who dreams of conquering one of the dungeons that can grant tremendous wealth and power. Aladdin eventually befriends Alibaba and suggests he explore a nearby dungeon.
After conquering the Dungeon, a Djinn named Amon appears in front of Aladdin and tells him that he is a Magi and that Alibaba is his king's candidate. Through their journey and numerous encounters with many other people and djinns, both of them will come to learn the truth about their destiny.
---
What do you think of this list of best medieval anime? Did we miss any of your favorite medieval anime? Let us know in the comments section down below!
Organize your watchlists in order by checking these guides below:
Darker than Black Watch Order Guide