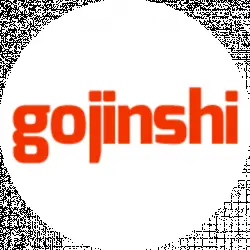 Latest posts by Gojinshi Team
(see all)
If you are looking for Pain Quotes from Naruto, then read this before scrolling down. What's the best way to achieve peace? It's the question haunting even the real-life leaders of the world. But let's keep the real world aside for now and focus on the Shinobi world from the Naruto universe. The war-ridden Shinobi world had many characters trying to achieve peace in their way. The strongest shinobi, Senju Hashirama, gave away the Bijju's to other nations as a symbol of peace. But ultimately, humans are greedy creatures. Humans always seek more power for their selfish reasons which leads to the disruption of already unstable peace.
There enters Nagato aka Pain, a war orphan who also was a firm believer of ending the war without the use of violence. Even after losing his parents due to war, he still had his friends. But in the end, the conflict during the war resulted in the death of his best friend. Now Nagoto experienced the pain and how effective it is against humans.
Humans are vulnerable creatures against pain, either be it an emotional or physical pain. According to Nagato, it is the ultimate weapon to control a human even if it gives birth to revenge because revenge leads to more pain. The end goal of pain is fear, and if everyone knows the fear of pain, world peace would no longer be a dream.
Also Read: Kakashi's Face Reveal In Episode 469 Of Naruto Shippuden
Nagato's way of achieving peace can be questionable, but his wisdom might make someone wonder is it though? Every word he speaks throughout the series is a thought-provoking message and worth sharing. This article will list the best Quotes by Pain from the Nauto Shippuden anime series.
Pain Quotes From Naruto: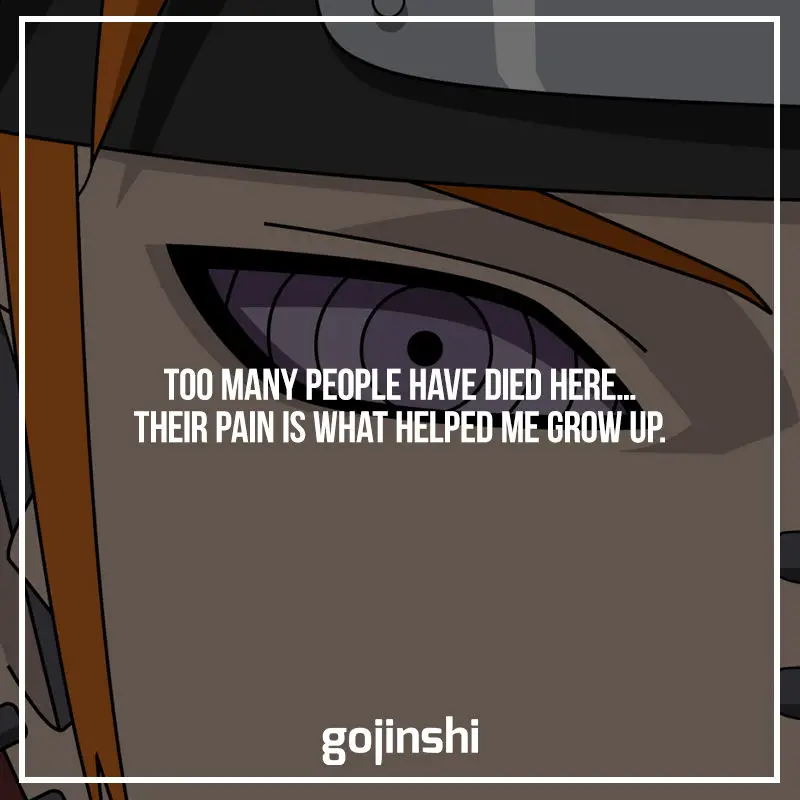 "Too many people have died here…their pain is what helped me grow up."

Pain (Naruto)
---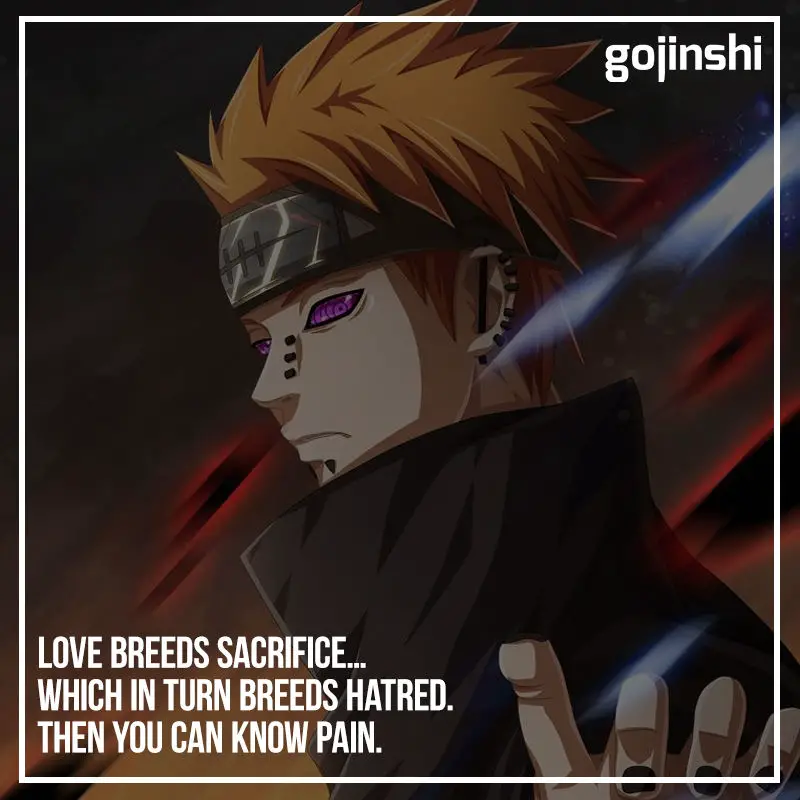 "Love breeds sacrifice… which in turn breeds hatred. Then you can know pain."

Pain (Naruto)
---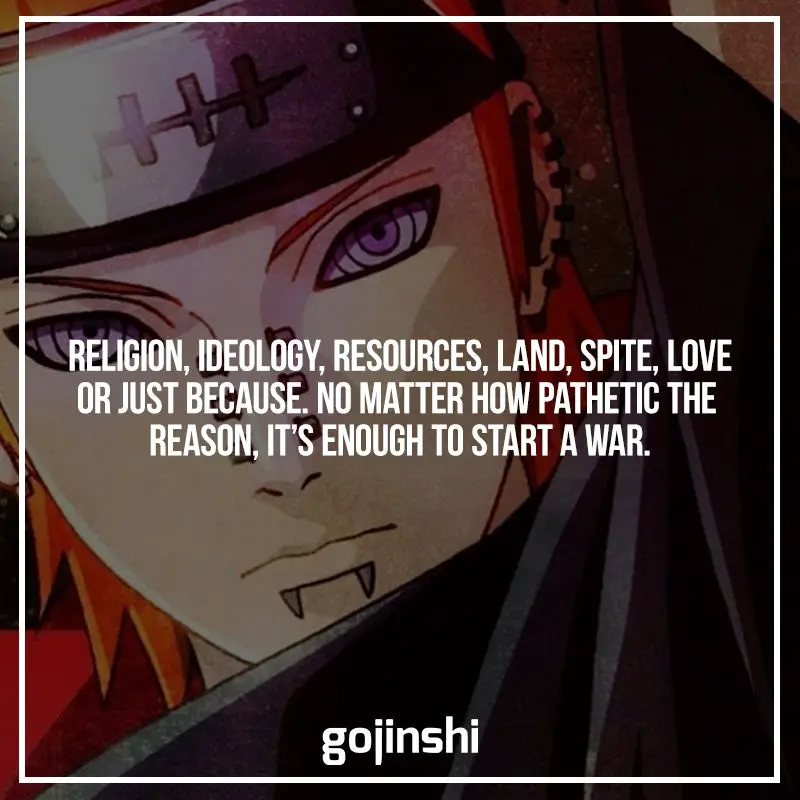 "Religion, ideology, resources, land, spite, love or just because. No matter how pathetic the reason, it's enough to start a war."

Pain (Naruto)
---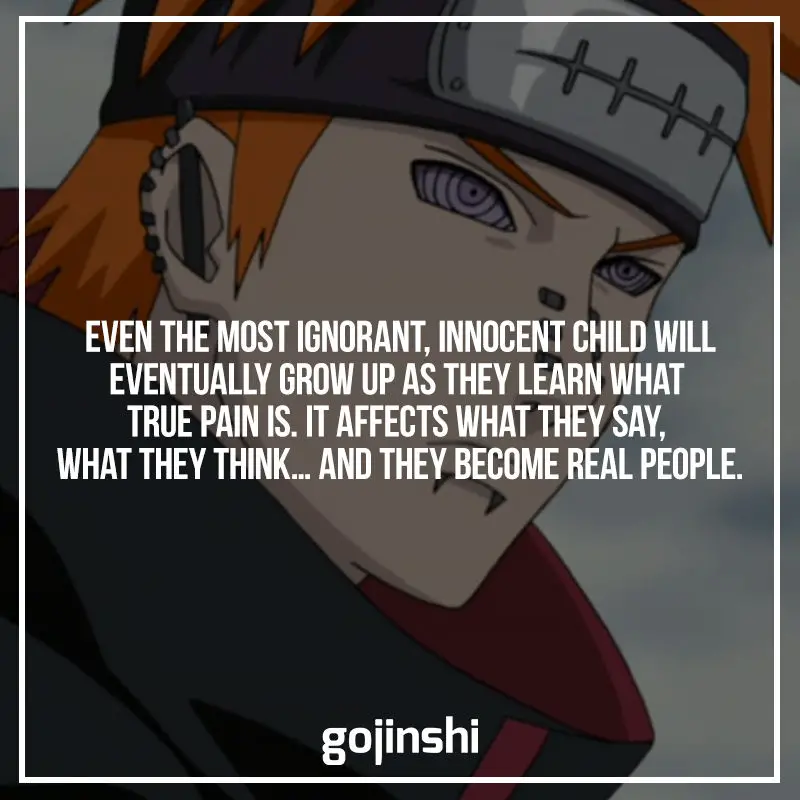 "Even the most ignorant, innocent child will eventually grow up as they learn what true pain is. It affects what they say, what they think… and they become real people."

Pain (Naruto)
---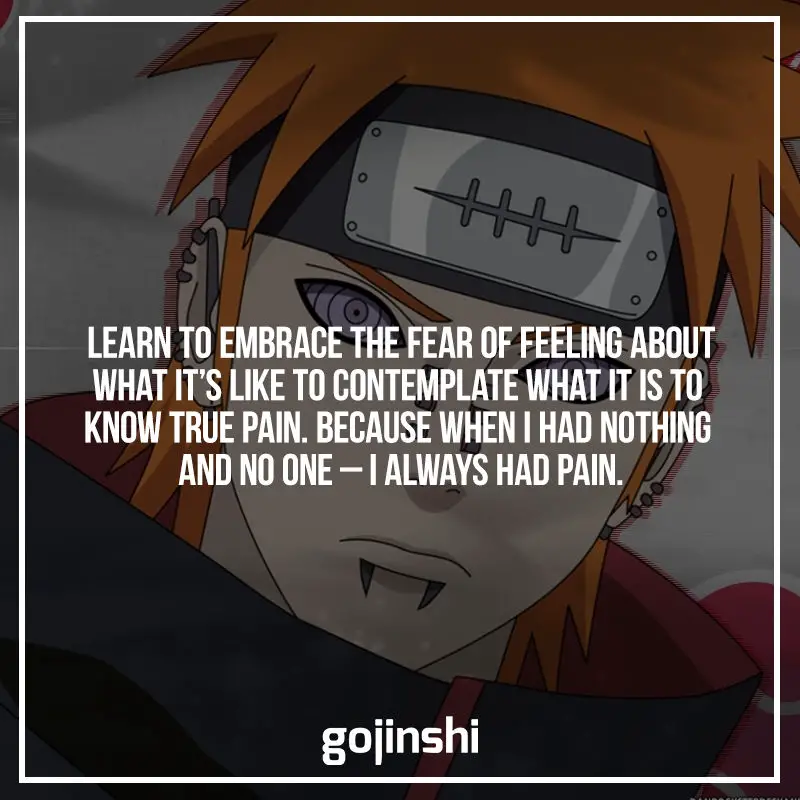 "Learn to embrace the fear of feeling about what it's like to contemplate what it is to know true pain. Because when I had nothing and no one – I always had pain."

Pain (Naruto)
---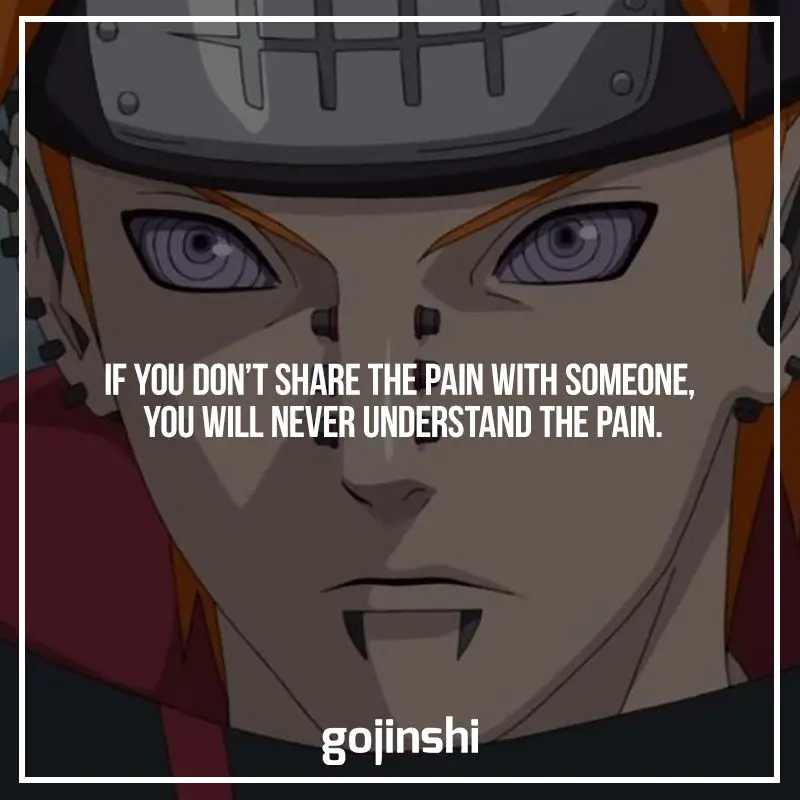 "If you don't share the pain with someone, you will never understand the pain."

Pain (Naruto)
---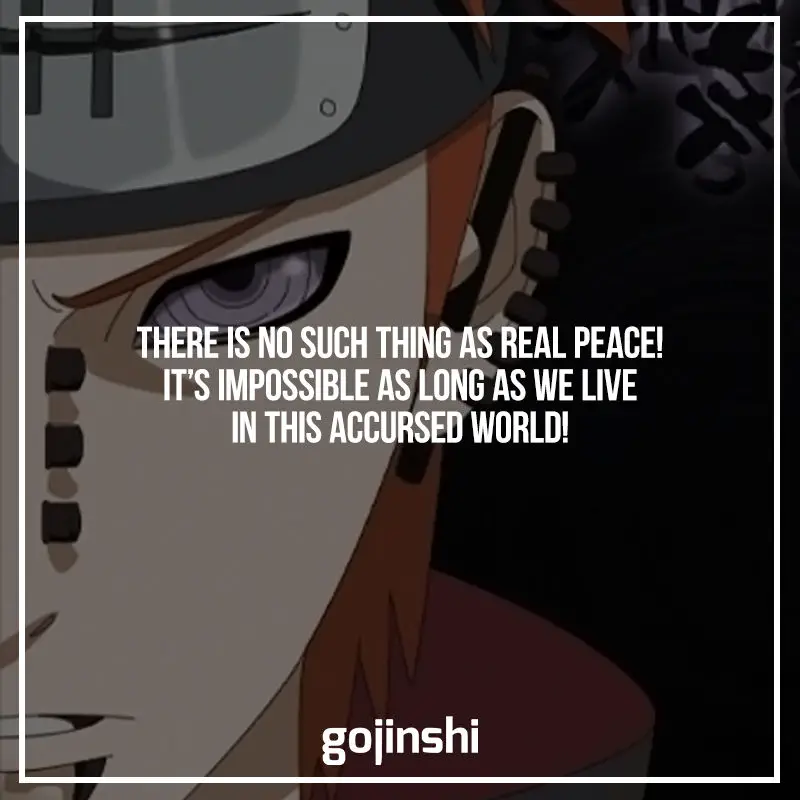 "There is no such thing as real peace! It's impossible as long as we live in this accursed world!"

Pain (Naruto)
---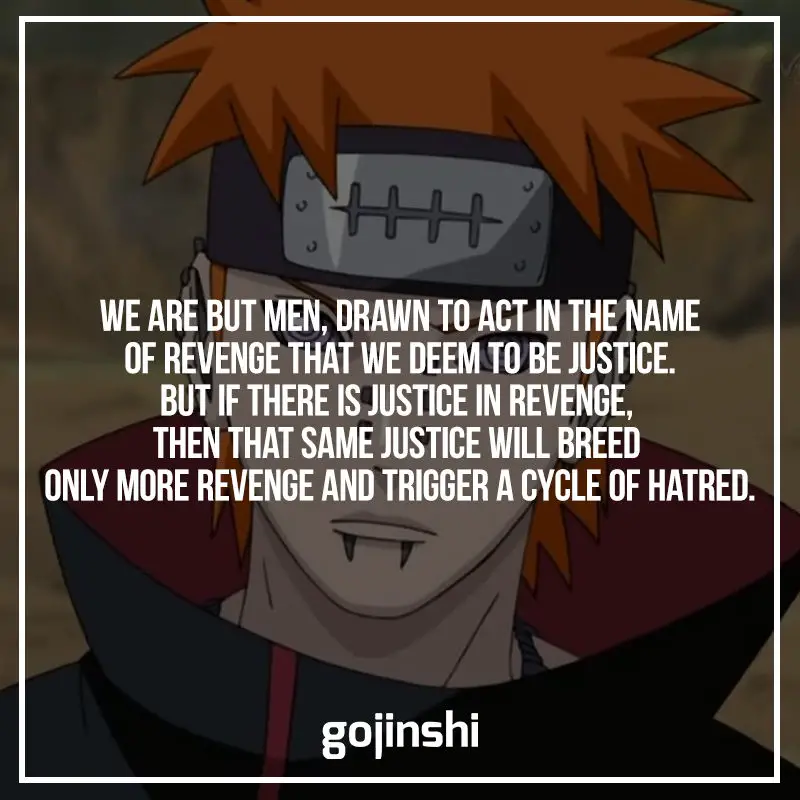 "We are but men, drawn to act in the name of revenge that we deem to be justice. But if there is justice in revenge, then that same justice will breed only more revenge and trigger a cycle of hatred."

Pain (Naruto)
---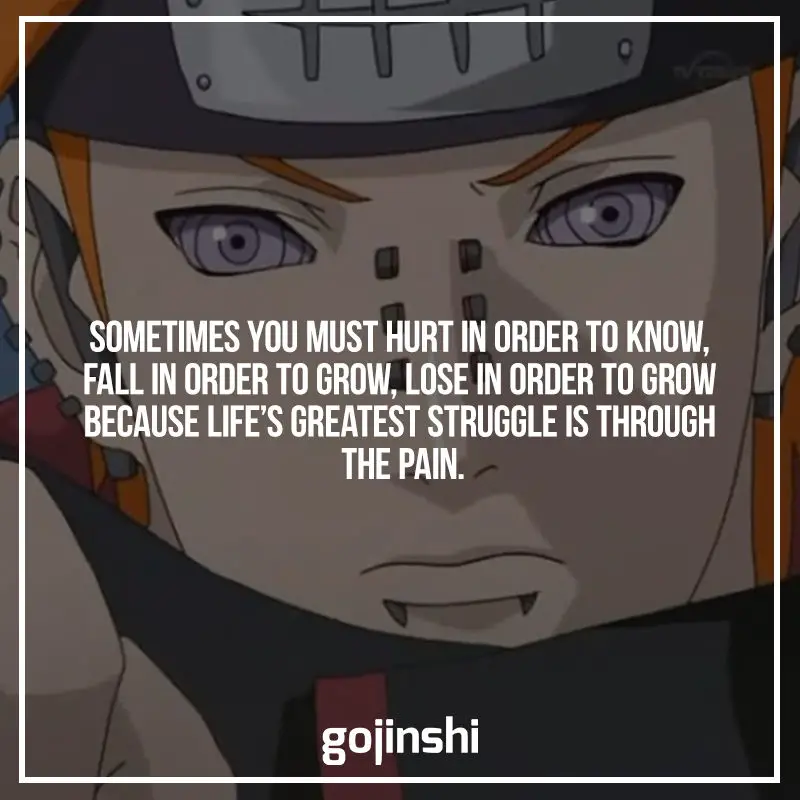 "Sometimes you must hurt in order to know, fall in order to grow, lose in order to grow because life's greatest struggle in through the pain."

Pain (Naruto)
---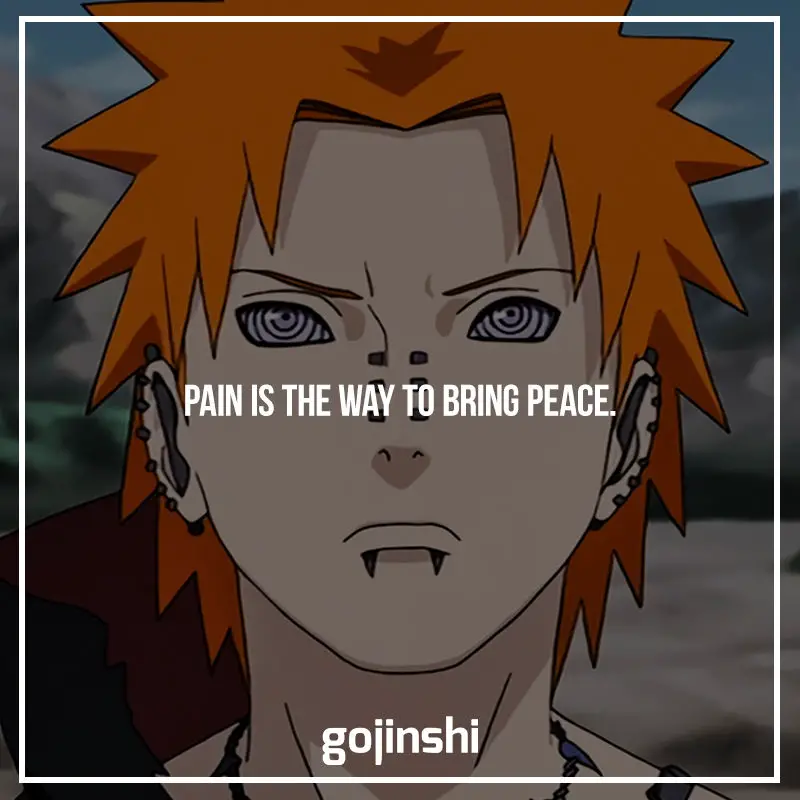 "Pain is the way to bring peace."

Pain (Naruto)
---
"Feel the pain, think about pain, know the pain and accept pain"

Pain (Naruto)
---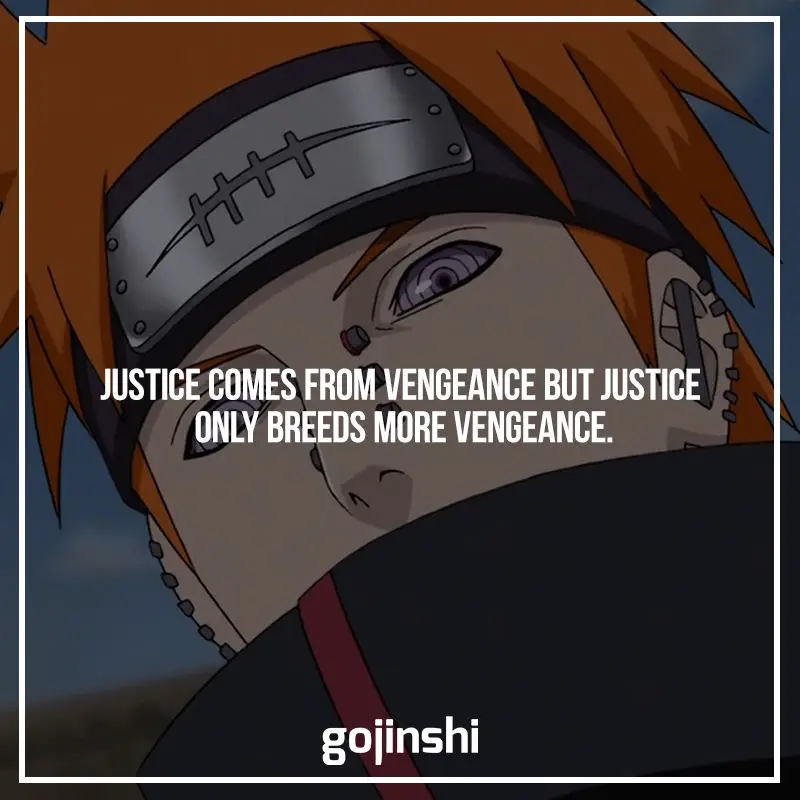 "Justice comes from vengeance but justice only breeds more vengeance."

Pain (Naruto)
---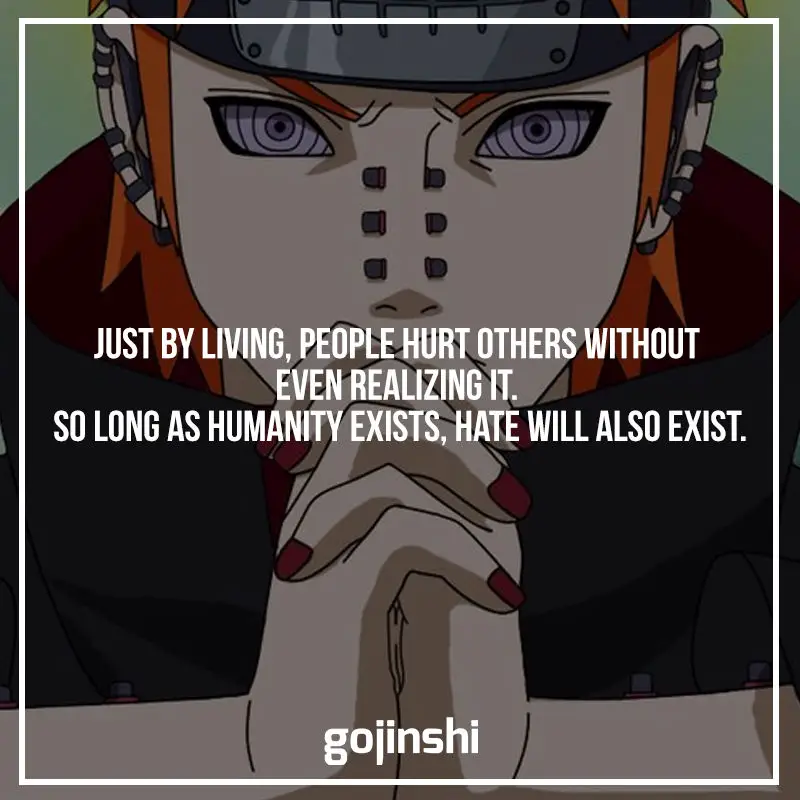 "Just by living, people hurt others without even realizing it. So long as humanity exists, hate will also exist."

Pain (Naruto)
---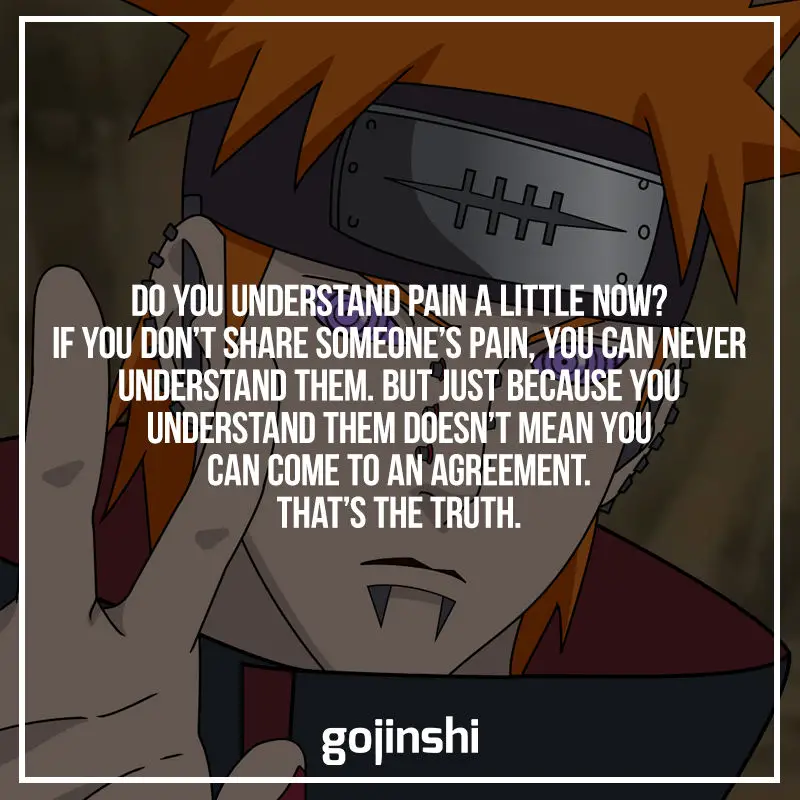 "Do you understand pain a little now? If you don't share someone's pain, you can never understand them. But just because you understand them doesn't mean you can come to an agreement. That's the truth."

Pain (Naruto)
---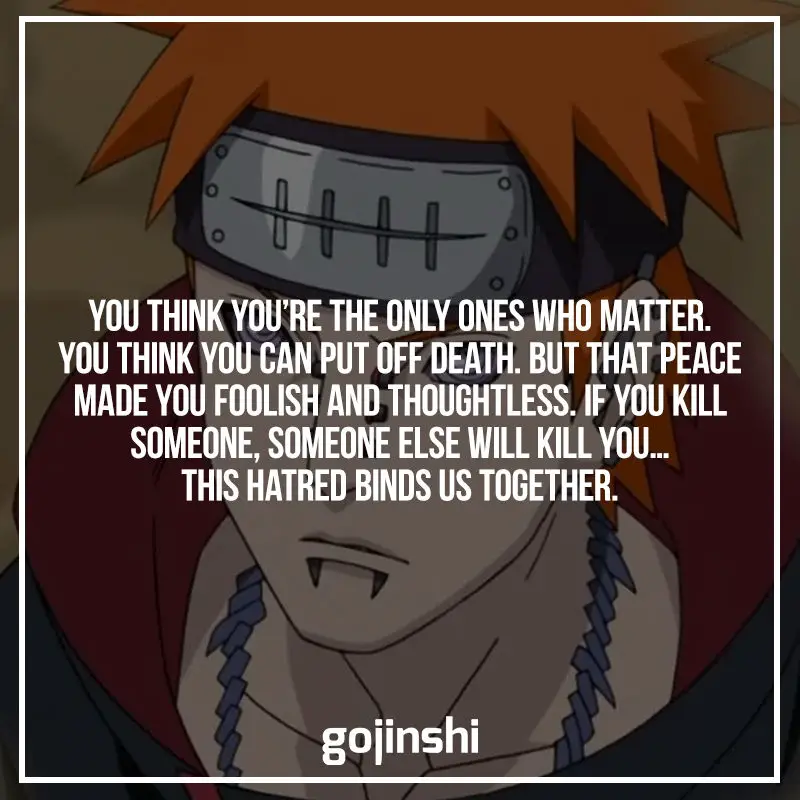 "You think you're the only ones who matter. You think you can put off death. But that peace made you foolish and thoughtless. If you kill someone, someone else will kill you… this hatred binds us together."

Pain (Naruto)
What do you think about our list of best pain quotes in Naruto Shippuden? Which is your favorite among these? And if we miss something then let us know in the comment section down below.
Find more naruto related guides:
15 Best Thought-Provoking Pain Quotes From Naruto
Masashi Kishimoto's New Manga Will Be Available For Preview Before Launch