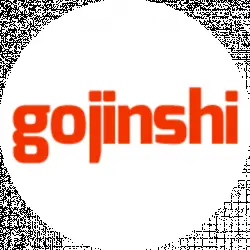 Latest posts by Gojinshi Team
(see all)
The good old rom-com harem anime is what you need when you are looking for something to watch but tired of action-fantasy. A harem anime like Bokutachi wa Benkyou ga Dekinai (We Never Learn) is an excellent way to cool off with its comedy tied to romance. While hating a harem anime is a trend among fans, but deep inside, harem anime is a guilty please of every anime fan. And If you dig female characters fighting for romance with the main character and turning it into a harem situation, then I See You're a Man of Culture As Well.
We Never Learn: BOKUBEN follows the story of Nariyuki Yuiga, a broke high school student in his third year. After studying tirelessly, he finally gets awarded with the "Special VIP Recommendation." It's a scholarship that would cover all his college tuition fees and solve his financial problem. But it turns out; it's not that simple to get the scholarship as it has some conditions attached to it. The conditions are simple, tutor the school's geniuses: Rizu Ogata, Fumino Furuhashi, Uruka Takemoto with thier weak subjects. At first glance, the task looks simple, but as Yuiga tries to tutor them, he soon learns how hard it is teaching someone.
A ton of harem anime comes out every season. What makes BokuBen different from others? What makes a good harem anime? The answer is simple: don't put only one girl in the spotlight. Make sure each girl stands out. Start a waifu war among fans and make harem anime great again. BokuBen does all this correctly.
If you are looking for anime with a pure harem that evens out with some good humor. Then look no further, here are some anime similar to Bokutachi wa Benkyou ga Dekinai (We Never Learn: BOKUBEN)
Anime Similar To We Never Learn: BOKUBEN
01. 5-toubun no Hanayome (The Quintessential Quintuplets)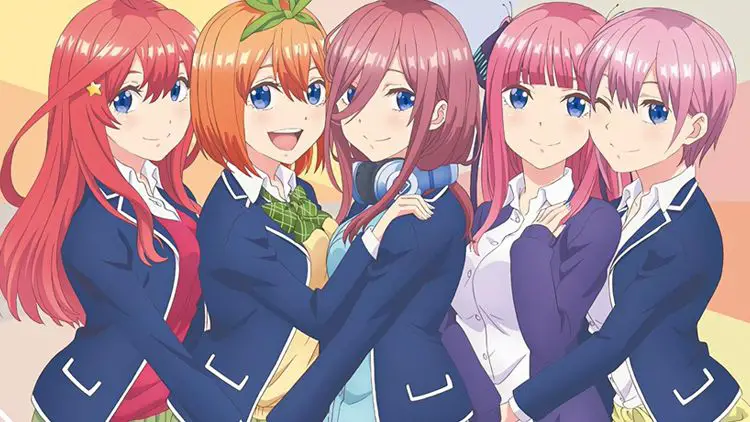 Fuutarou Uesugi is leading a tough life for a high school student due to his father's enormous debt leaving his family to scrape by every month. One day at school, he argues with a girl who takes his regular seat at the cafeteria, making both of them dislike each other. The same day he gets offered a tutor job, which is paying five times more than the regular price. This golden opportunity can help his family get rid of the debt, but it seems like its not that easy. As it turns out, his new student is none other than Itsuki Nakano, the girl he argued at the cafeteria.
But the problem doesn't end there as Itsuki is a quintuplet. That means an addition to her; he also needs to teach her other sisters as well. The other sisters: Miku, Yotsuba, Nino, and Ichika, detest studying even if they have to repeat the grade. With his family's livelihood on the line, Uesugi has to come with creative ways to make all the sisters finish their graduation.
02. Ore no Kanojo to Osananajimi ga Shuraba Sugiru (Oreshura)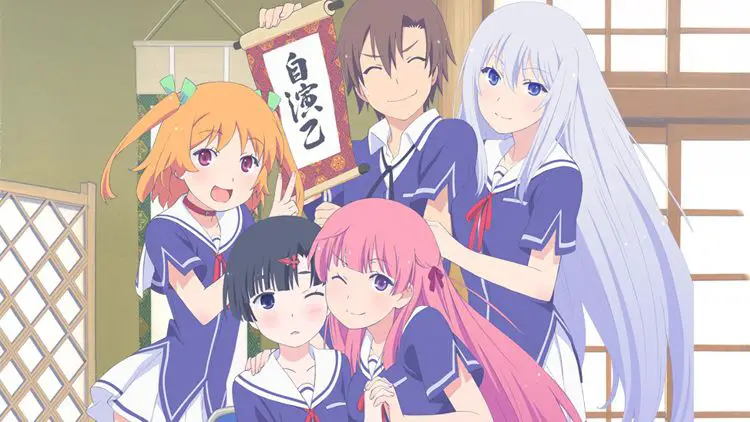 Eita Kidou hates love after witnessing his family fell apart because of infidelity. With no interest in romance, Kidou devotes himself to studying so he can be a doctor one day. The beautiful and popular classmate of Kidou, Masuzu Natsukawa, also hates love and romance. Being the center of attention, she gets confessed all the time.
Tired of all this, Natsukawa asks Kidou to pretend as her boyfriend. However, Kidou refuses her request. But Natsukawa has one more trick up her sleeve, and that is blackmailing Kidou with his hidden past. At one point of his life, Kidou was suffering from the infamous Chunibyo syndrome. And all this was written in a journal which Kidou thought was lost. Now Kidou is forced into a fake relationship with the most popular girl turning his life upsidedown.
03. Love Hina
Keitaro Urashima once promised a girl that they will meet each other again in the future at Tokyo University. But unfortunately, Urashima fails the National Practice Exam ranking 27th from the bottom. To fulfill his promise, Urashima decides to move to a hotel owned by his grandmother. There he intends to study in solitary for the entrance exam.
After reaching the hotel, he learns that it has now turned into an all-girls dormitory. And somehow Urashima ends up becoming the new manager for the dormitory. Now Urashima has to juggle between his studies while managing the dorm with five beautiful girls living in as residents.
04. Saekano: How to Raise a Boring Girlfriend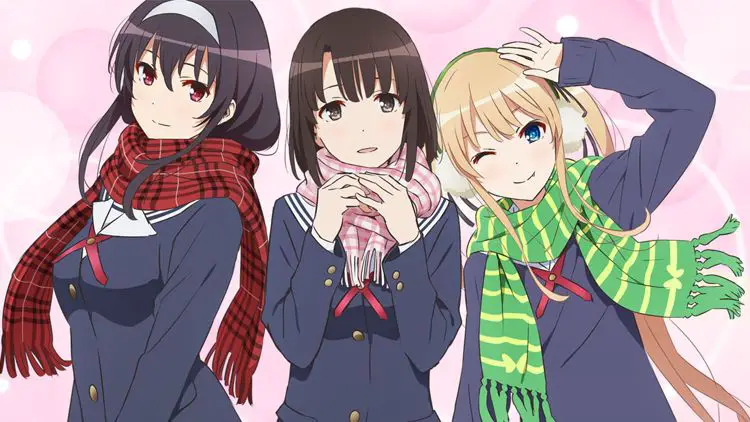 Tomoya Aki is an otaku obsessed with anime and light novels to a length that he is famous for it in his school. Now he has decided to spread the love for this medium by creating his own game. But it's not that easy as creating a game requires a lot of creative minds, and Aki knows the perfect people for it. He recruits his childhood friend Eriri Spencer Sawamura, a famous doujin artist and Utaha Kasumigaoka, a third-year in his school who is also secretly renowned as a novelist.
Now that the dream team is ready, the only thing missing is a muse, aka inspiration. Luckily he finds it in Megumi Katou, a boring but beautiful looking girl with no presence at all. But when Aki's new doujin circle begins creating the game, Aki realizes that it is missing something. It's the actual emotions that Aki has to experience first hand before turning it into a game.
05. NAKAIMO – My Little Sister Is Among Them!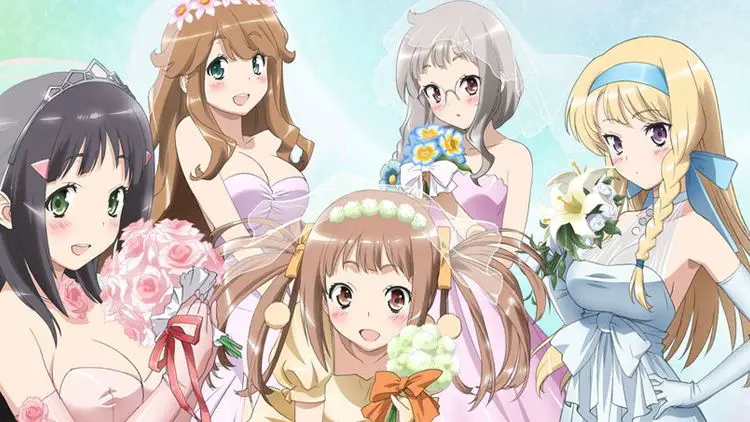 Shougo Mikadono is set to claim the large inheritance left by his late father. But there is a twist, and it's pretty simple. Mikadono has to attend a particular new school and find a suitable girl to marry. While at first glance, it looks simple, but it isn't. One of the girls in his new school is his long lost sister.
As Shougo starts getting familiar with the girls at the new school, he begins to realize that each one of them has lots of things familiar with him. It's like one them might be his sister because of similarities between thier interest. Can Shougo find his future wife without committing anything morally wrong?
06. Haganai: I don't have many friends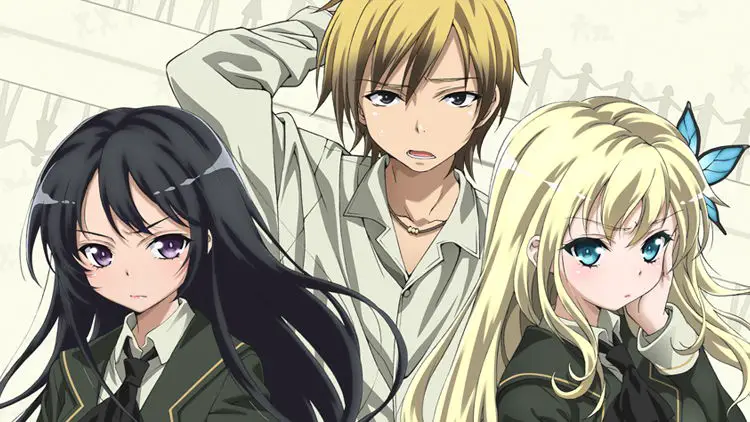 Due to his biracial parents, Kodaka Hasegawa has blond blackish hair. After transferring to the new school, Hasegawa gets labeled as delinquent due to his hair color. Now that he failed at his first impression, Hasegawa ends up alone, and a month gets passed on. One day he finds a Yozora Mikazuki, a fellow loner speaking to her self. Hasegawa calls out Mikazuki, and they both end up sharing the stories of their lonely high school life.
After knowing each other's tales, Mikazuki starts the Neighbor's Club and invites Hasegawa as a club member. The goal of the club is to teach themselves social skills, which will help them make friends. Soon they get joined by Sena Kashiwazaki and other eccentric students. Kodaka may finally be able to make some friends.
Also Read: