Latest posts by Shen Anigan
(see all)
Sad romance anime deserves a special mention for stirring the viewer's heart through delirious characters and agreeable plot devices of youths dealing with the rollercoaster of emotions that come with first love. This sub-genre evokes emotions you would expect from a show that contrasts sharply with the typical happy romance shojo genre focused on the character's personal development.
Sad romance anime is no different from traditional shojo storylines since it focuses on characters seeking love; however, it focuses more on the element of sadness. Sad romance anime stories deal with characters who find themselves stuck in a love problem, forcing them to make difficult life decisions.
In terms of popular sub-genres in the anime and manga community, sad romance is considered more influential and well-received by the romance genre's fans. If you're looking for a sad romance anime to get a good cry, then worry not. Here's the list of best sad romance anime you should watch right now.
Best Sad Romance Anime
01. Orange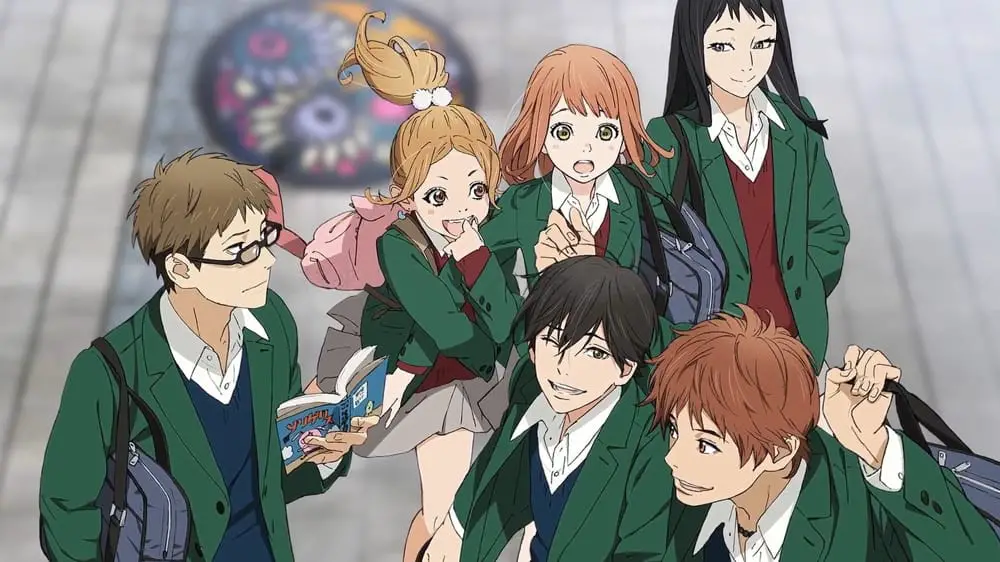 Buy/Stream On: Crunchyroll, VRV, Funimation
It's the start of Naho's second year in high school, and she is late on her first day. The same day she receives a stranger letter addressed to her. It's from none other than herself from 10 years in the future, stating her regrets for all those coming years.
Naho opens the letter describing the exact events about to happen on that day, including the transfer of a new student into her class named Kakeru Naruse. The letter also tells that Kakeru will die in an accident, now it's up to Naho to change the past and save him.
02. True Tears
Buy/Stream On: Crunchyroll, VRV, Amazon Prime Video
After her parent's death, Hiromi Yuasa started living with Shinichirou Nakagami's family as both families have known each other for a long time. Shinichirou noticed that Hiromi, who was bright and cheerful, lately has grown cold and distant at home, despite being friendly and outgoing at school. Shinichirou believes that she is still hiding things inside her heart.
At school, Shinichiro meets a strange girl named Noe Isurugi, whom he teases a bit. Infuriated by him, she curses him with misfortune, though he reconciles with her soon after. The two soon started growing closer after spending some time together. At the same time, Shinichiro tries to help Hiromi in the hope of easing her pain eventually.
03. Looking Up At The Half-Moon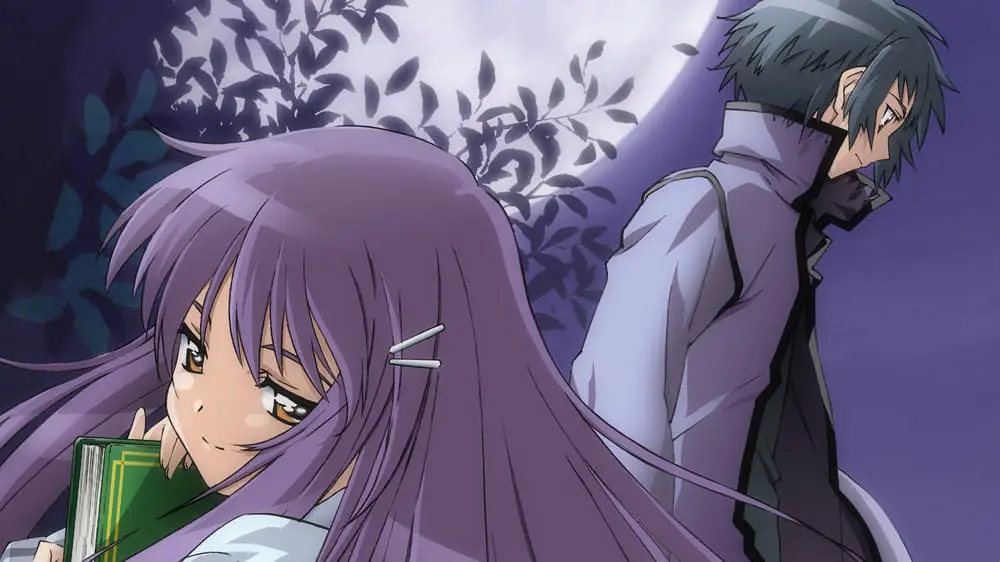 Buy/Stream On: Crunchyroll, VRV, Funimation, Amazon Prime Video
Yuuichi Ezaki is a seventeen-year-old high school student suffering from Hepatitis A and is hospitalized. After being bored of spending his days lying in the hospital, he decides to sneak out of the hospital but fails.
One day, he learns of another 17-year-old girl named Rika Akiba transferred to the hospital suffering from a weak heart valve. Yuuichi soon befriend her. As they spend time together, Yuuichi begins to fall in love with Rika.
04. Plastic Memories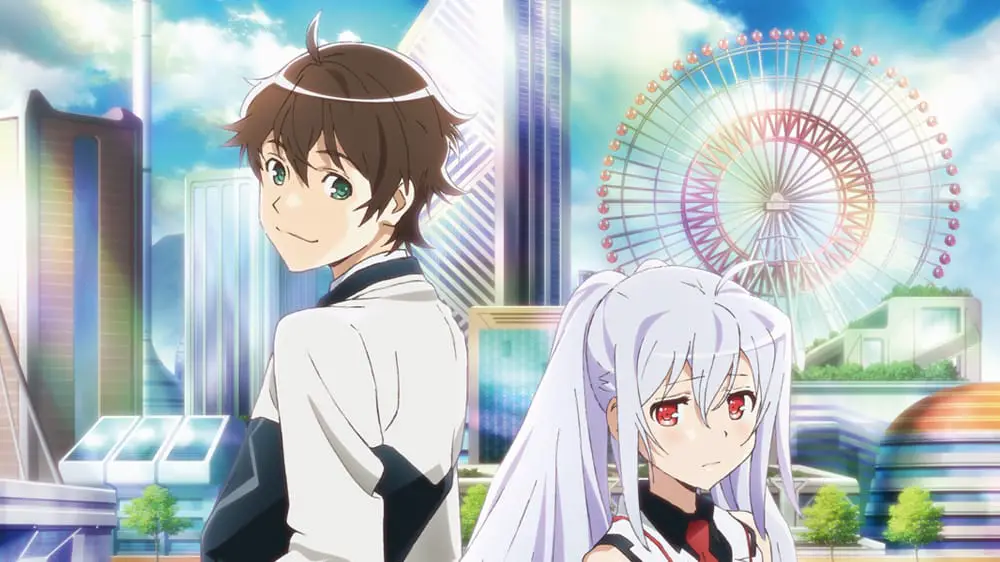 Buy/Stream On: Crunchyroll, VRV
In the future, an organization name SAI, an Artificial Intelligence Corporation, started creating Giftias, an android that possesses human emotions and personality. Giftias purpose is to live alongside humans and accompany them. However, Giftias have very limited lifespans and need to retrieve them out of commission before their expiration.
Tsukasa Mizugaki is an 18-year-old teenager, who after failing his college entrance exams through some connections, manages to land a job at the SAI Corporation and becomes in charge of retrieving the Giftias. Tsukasa eventually meets a Giftia named Isla, a Giftia retrievals expert. Thus began the story of Tsukasa and his relationship with Isla as they fall in love with each other.
05. Rumbling Hearts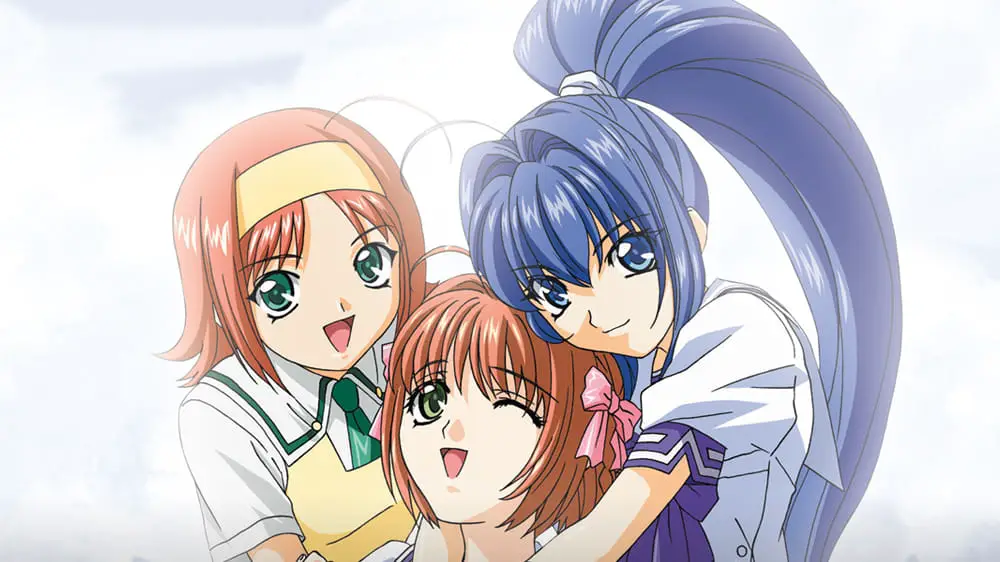 Buy/Stream On: Funimation
Haruka Suzumiya is an introvert who, with help from Mitsuki, manages to confesses to Takayuki Narumi, the boy she admires. Takayuki accepts Haruka's confession, and the two become a couple. Everything is going well for these two lovers until an unexpected disaster ensues in their life.
While waiting for Takayuki, Haruka gets hit by a car, which puts Haruka in a comatose. During this time, Mitsuki takes care of Takayuki, and the two started to grow closer. Three years later, Haruka awakes from the coma, but her sudden reappearance quickly changes Takayuki, Haruka, and Mitsuki worlds.
06. Kokoro Connect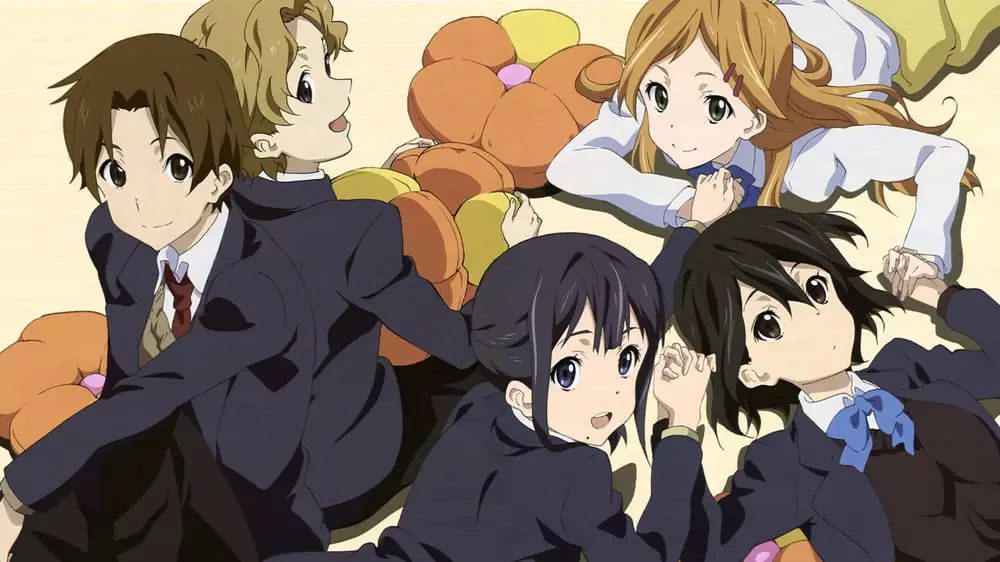 Buy/Stream On: Crunchyroll, VRV, HIDIVE
Taichi Yaegashi, Iori Nagase, Himeko Inaba, Yui Kiriyama, and Yoshifumi Aoki form the Student Cultural Society after being unable to find a club of liking. One day, the five members encountered a strange phenomenon. Somehow Aoki and Yui had switch personalities without any warning for a short period.
This personality change phenomenon soon continues to occur randomly amongst the other members of the club. But when they started learning each other's hidden secrets, it changed into a nightmare. Will this phenomenon make their friendship stronger, or will it break them forever?
07. Sola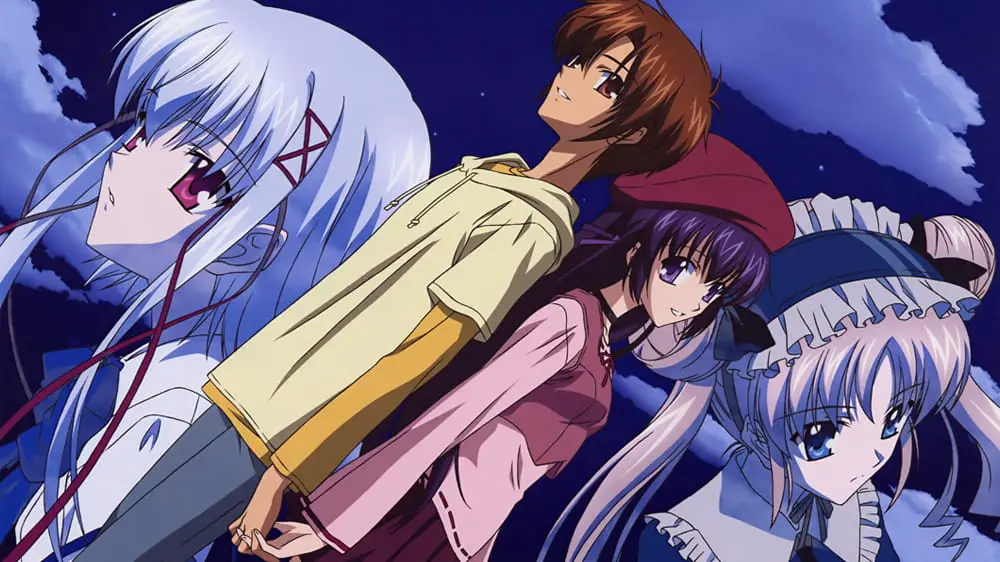 Buy/Stream On: Tubi
Yorito Morimiya is a high school student obsessed with the sky, and the sky is the only thing he thinks about all day. One day, while taking a picture of dawn, Yorito meets a strange girl named Matsuri. The girl was arguing with a vending machine to give her the tomato juice she tried to buy. But when Yorito tried helping her with the vending machine, she mysteriously vanished.
He soon learns that the strange girl is not human and is being chased by Takeshi Tsujidou, a strange man who wants to kill her. To help her, Yorito offers her shelter at his house. As they spend some time together, both Yorito and Matsuri fall in love with each other. But there's more to them, as both hold a dark secret related to them.
08. H2O: Footprints in the Sand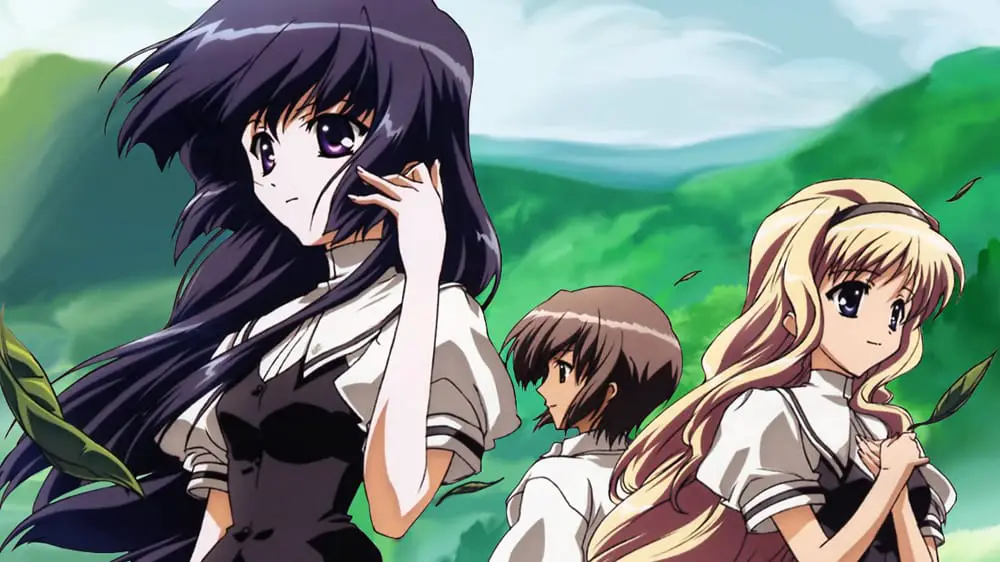 Buy/Stream On: Crunchyroll, VRV
Takuma Hirose is a high school student, who due to a mysterious illness, has gone blind. Even doctors can't seem to find the reason for his blindness or cure for his condition. To find a cure, he decided to moves to the countryside to live with his uncle.
Upon arriving, Takuma meets Otoha, the mysterious self-proclaimed Spirit of the Sounds of Time, who tells Takuma that she can give his sight back only for a short while. Hirose started helping the villagers with his sight back but soon finds out many sad secrets that the villagers are hiding.
09. Kanon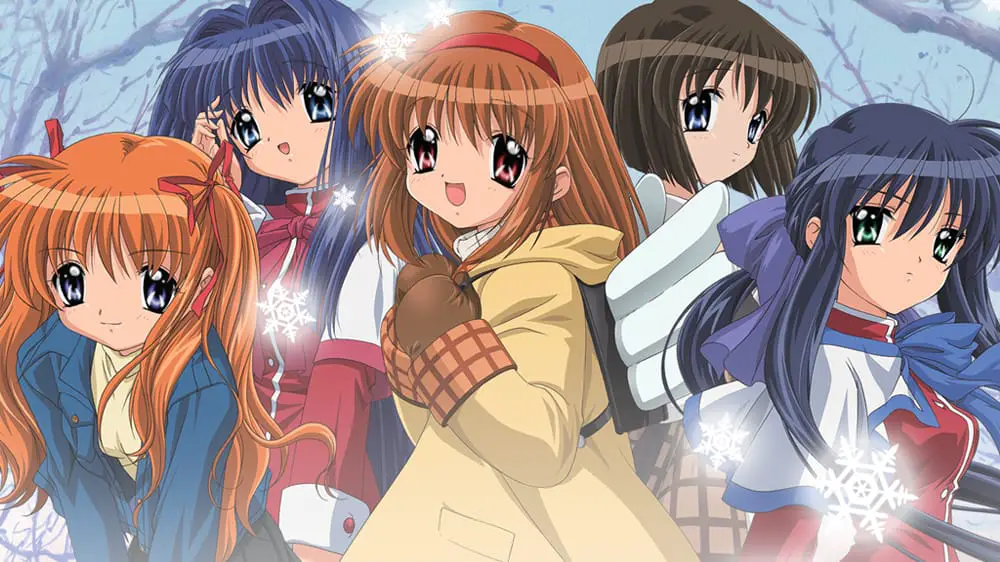 Buy/Stream On: Funimation
Yuuichi Aizawa is an ordinary high-school student who often visited his aunt Akiko Minase and cousin Nayuki Minase in a quiet little town since his childhood. However, due to an incident, he wasn't able to visit them for seven long years.
Seven years later, Yuuichi has forgotten his high-school memories and transfer to a new school. The story follows Yuuichi's encounters with several young girls, all of whom have some connection to his past. As he started to befriend each girl, he once again confronts his long-forgotten past.
10. Myself; Yourself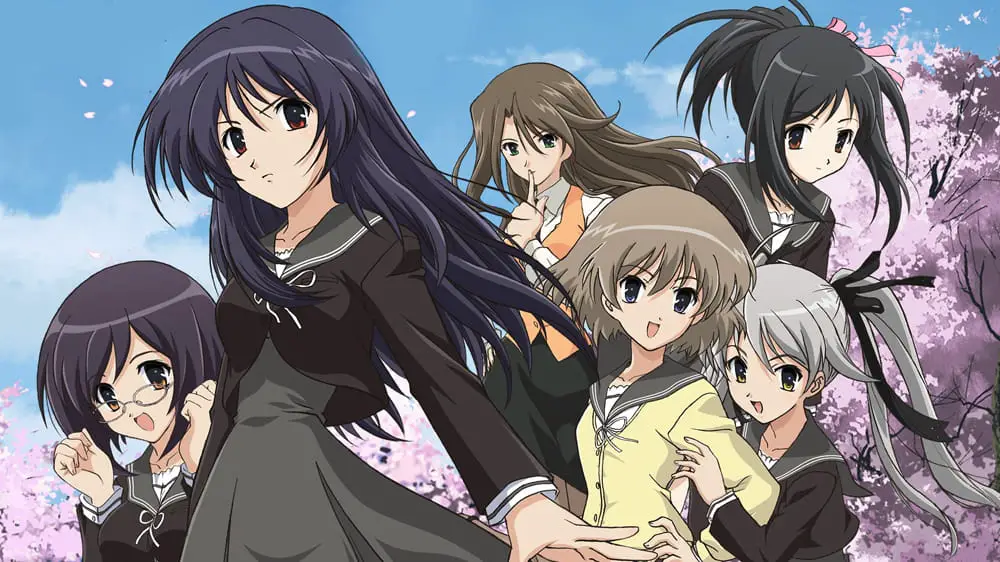 Buy/Stream On: Crunchyroll, VRV, HIDIVE
Due to his parents' business plans, Sana Hidaka as a young boy had to move away from his hometown, leaving his friends behind and shifting to Tokyo. After five years, Sana Hidaka moves back to his hometown, only to find out that the town and friends he left behind have changed.
But the one who has changed the most is Sana's childhood friend, Nanaka Yatsushiro. Once sweet and caring is now acts cold with moody behavior. Starting a new life in his hometown, he's determined to reconnect with his childhood friends.
Find more interesting articles below:
Sword Art Online Gift Ideas For Anime Fan In Your Life