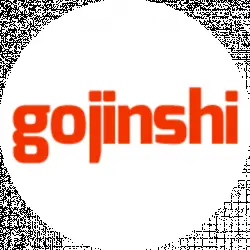 Latest posts by Gojinshi Team
(see all)
All anime fans have a peculiar taste in the Ecchi genre (primarily because it provides eye candy to viewers) as most ecchi anime relies more on fanservice than plot. For example, the Harem genre with ecchi often goes together quite well. Ecchi or in other words more softcore version of Hentai, usually features sexualized situations in anime and manga. The ecchi genre often utilizes female characters for that extra titillation for the viewers as much as the characters. Ecchi genre is famous for sometimes downright nudeness as well mainstays fanservice elements such as bikinis, lingerie, stockings, dangerously short skirts with guaranteed panty shots or larger-than-average bust sizes.
Anything can happen in the Ecchi anime to increase the attraction of a show, from female characters wearing outfits that show a lot of cleavages to clothing accidentally getting torn off or a character wearing nothing but an apron and many other more. Ecchi genre mainly uses misunderstandings and sexual farce as a plot device for characters to end up in a fanservicey situation. So much so that it becomes very distracting to point where it doesn't make any sense.
However, many of the good Ecchi series are comedies with quality animation, lots of steamy moments, and humour that manages to make those erotic scenes perfect for rewarding or enticing viewers. Ecchi can be vague in what it can show as it offers something for everyone. If you are looking for good ecchi anime, then you have come to the right place. Here is a list of best ecchi anime that you should watch right now
Best Ecchi Anime
01. Nande Koko ni Sensei ga!? (Why the hell are you here, Teacher!?)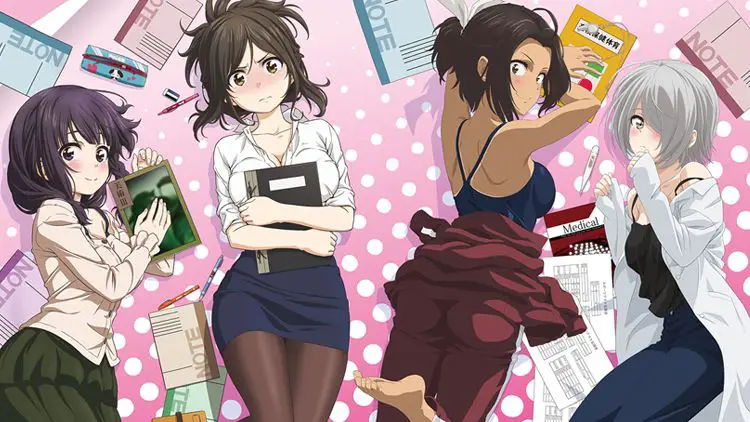 Ichiro Sato is a seventeen-year-old average student who somehow always end up in awkward places with Kana Kojima. Famous for known as the demon teacher, Kana has a frightening reputation. But in front of Ichiro, Kana always appears as an air-head and total ditz.
Due to her clumsiness, the student-teacher pair always finds themselves in a perverted and embarrassing situation. And surprisingly, Ichiro is not the only student in this erotic love comedy. Several other male students are also dealing with steamy shenanigans and unexpected encounters with other female teachers.
Also Read: 6 Anime Like Nande Koko ni Sensei ga!? (Why the hell are you here, Teacher!?)
02. Ladies versus Butlers!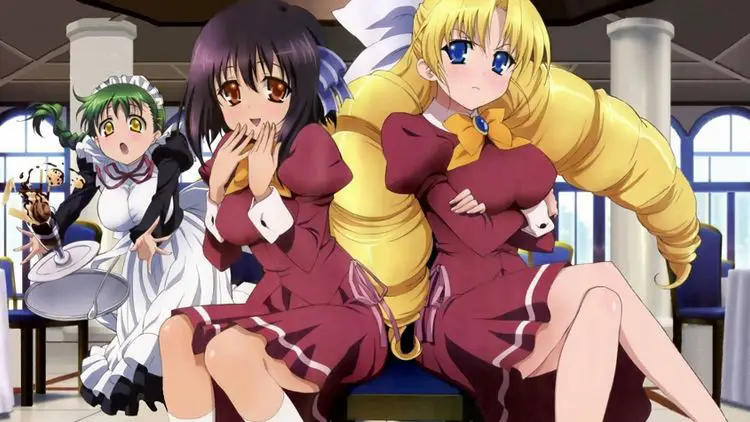 After losing his parents in an accident, Akiharu Hino got adopted into his uncle's family. To avoid being a burden on his uncle, Akiharu manages to get into the House Management Department of Hakureiryou high school. His goal is to become a butler, and Hakureiryou academy is known to train servants for high society.
However, due to his delinquent appearance, he ends up scaring the majority of girls at the school. Luckily Akiharu meets his childhood friend Tomomi Saikyou, a blessing and a curse for Akiharu due to a traumatizing experience with her when they were kids. School life is just starting for Akiharu as more steamy situations and misunderstandings await for him for the rest of his training period.
03. B-gata H-kei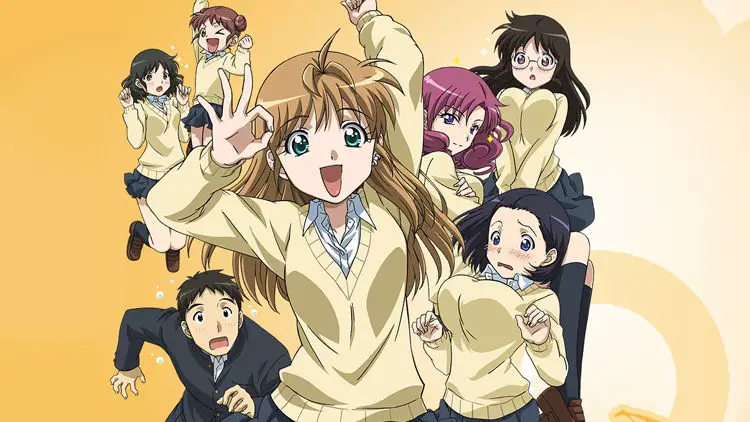 Yamada is a fifteen-year-old teenager who has started her first year at Takizawa High School. Despite being a virgin, she has a dream to have casual sex with 100 men. But there is a problem. Yamada is a gorgeous looking girl, but she thinks her lady parts looks weird. It has created a false belief that her first partner might tease her.
To overcome this insecurity, Yamada sets out to find a fellow virgin with whom she will lose her virginity. There enters, Kosuda Takashi a plain-looking guy, perfect for Yamada until she becomes more experienced. But there is one more small problem, Yamada doesn't know anything about sex or love, and she fails in every romantic attempt with Kosuda
04. Sora no Otoshimono (Heaven's Lost Property)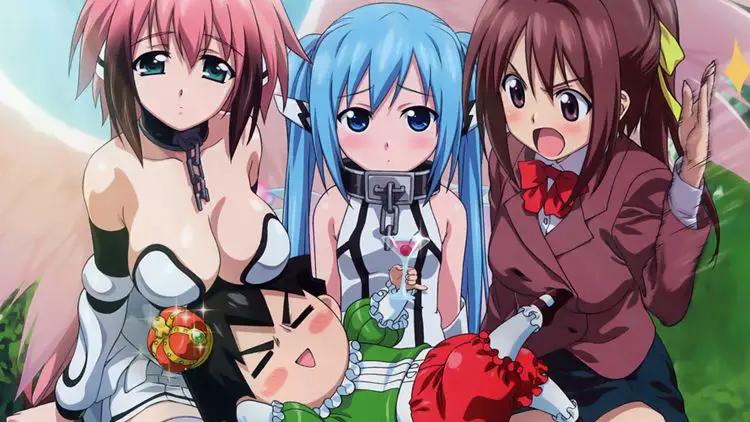 As long as he can remember, Tomoki Sakurai has encountered an angel in his dream, asking for help. But he can't remember her face after he wakes up in tears. Tomoki lives a life of pacifist and only has perverted thoughts leading to a chaotic life with his childhood friend Sohara Mitsuki who often karate chops him.
One night while observing the sky, he witnesses a strange anomaly. He founds an actual angel named Ikaros, who has come from a world called Synapse and declares herself to be Tomoki's servant. The peaceful life of Tomoki has suddenly come to an end with the arrival of Ikaros, who might be the mysterious angel he sees in his dreams.
05. Yuragi-sou no Yuuna-san (Yuuna and the Haunted Hot Springs)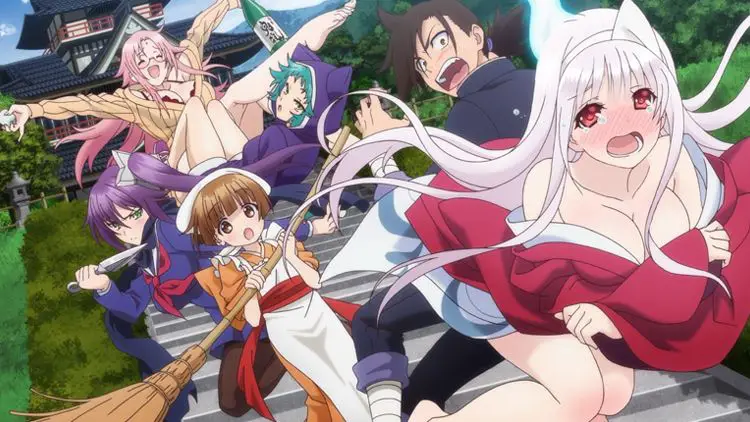 Kogarashi Fuyuzora is an unlucky high school student. After being homeless for his entire life, Kogarashi finally founds Yuragi Inn, a boarding house with very cheap rent. Due to rumors of a vile ghost haunting the Yuragi Inn, it was an ideal place for Kogarashi due to his supernatural powers that let him see and exorcise spirits.
However after arriving at Yuragi Inn, it turns out that the malicious ghost is a beautiful silver-haired girl who only remembers her name Yuuna. And strangely, other tenants of the Inn are also users of supernatural ability. It seems like Kogarashi might have a find the perfect place to call home.
06. Okusama ga Seitokaichou! (My Wife is the Student Council President!)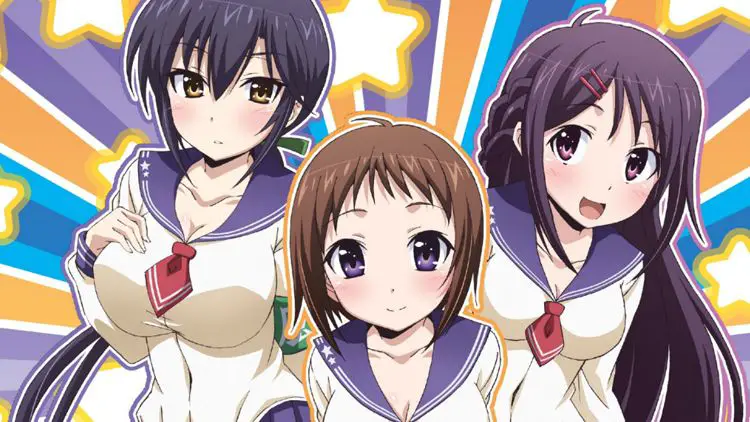 Hayato Izumi is studious, responsible student and the best candidate for the student council president. But he ends up becoming vice president after losing to a girl named Ui Wakana. The reason behind his loss was the promise Ui made to all the students. She promised to remove all restrictions on campus romance and gave away free condoms, which led to a landslide victory for her.
The same day, Hayato finds out that his parents have secretly selected a fiance for him, and it is nonother than Ui. Now Hayato has to balance school life while living with Ui and keep this matrimony a secret from the other students to make up for his lost pride.
07. Ichiban Ushiro no Daimaou (Demon King Daimao)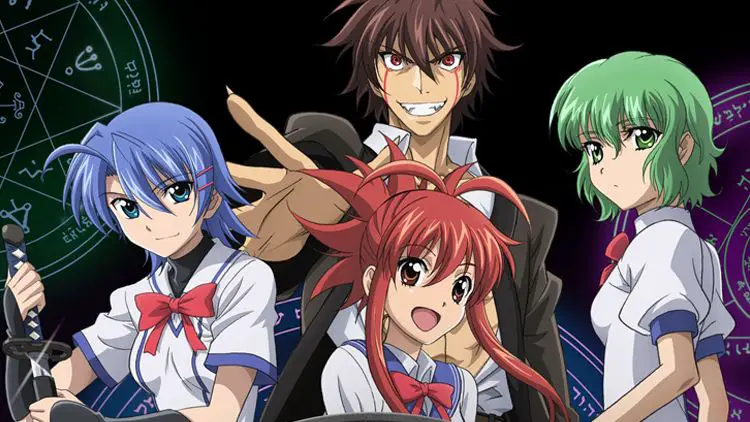 Akuto Sai is aiming to become part of his country's highest order of magicians and make a change in the world for good. It all changes when he takes the aptitude exam at Constant Magical Academy. The results of the test revealed that his future occupation would be becoming the Demon King.
It has lead to a problematic start for Akuto at his new school, and he is determined to keep pursuing his dream despite his destined fate. Moreover, everything he does leads to further realization of becoming the Demon King. But life is not bad for Akuto as the title of Demon King also brings some attention for him like being surrounded by bunch of girls who each have their motives.
08. Omamori Himari
Yuuto Amakawa continued living a healthy life with the help of his neighborhood friend Rinko after the death of his parents. The only thing he had with him was a strange and mysterious charm he got from his late grandmother. On his sixteen birthday, he gets attacked by the supernatural creature, but a girl named Himari saves him.
On that day, Yuuto learns the truth about being decedents to a family of demon-slayers. The charm he had with him all the time has lost its power, and supernatural forces of the world are ready to attack him anytime. Himari is a cat-woman and demon huntress who has come to protect him from evil spirits.
09. Hyakka Ryouran: Samurai Girls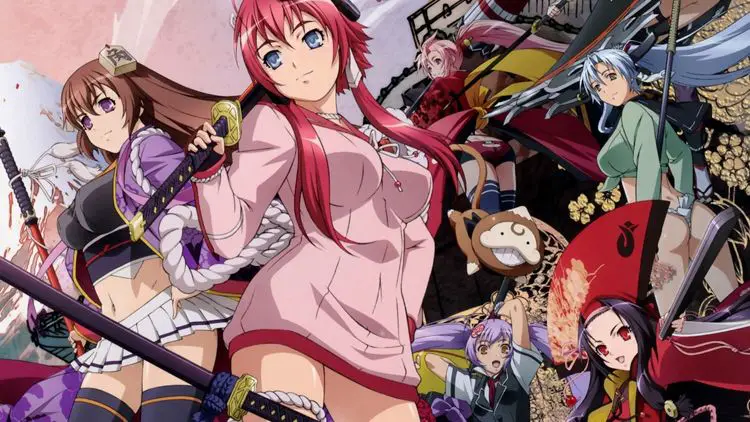 In an alternate timeline, the Tokugawa shogunate remained in power and tuned great Japan into an isolated land from the rest of the world. Muneakira Yagyuu is a young samurai who joined Buou Academic School, where children of warriors are encouraged to study. But the school is amid an ongoing fight between the student council and a rebellious underground group.
During a battle, Muneakira encounters a mysterious girl who came from the sky and kissed him to activate some power. Just what is happening was Muneakira wondering while unknown to him that soon he will be dragged into a secret that will shake Great Japan to its core.
10. Girls Bravo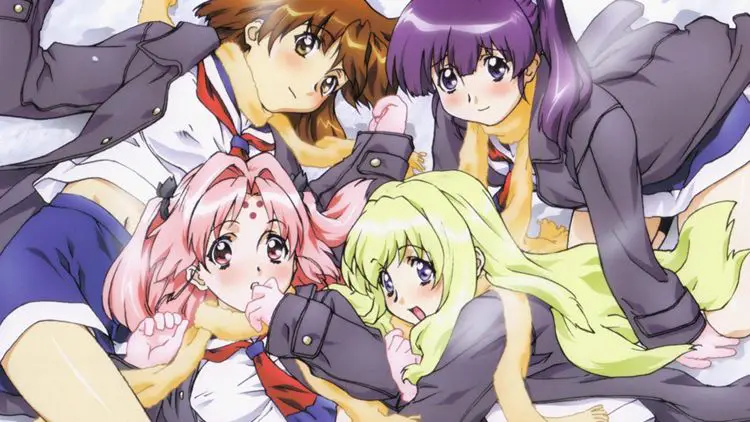 Due to being short in height for his age, Yukinari Sasaki always got picked on by girls. The mental trauma led to Yukinari developing a phobia for girls and even gets hives when a girl touches him. One day during another unfortunate contact with a girl, Yukinari ends up transported to the city of Seiren, which exists above the earth in an invisible orbit.
The majority population of Seiren are women with only a few mens. There he meets a girl named Miharu Sena Kanaka who's touch doesn't scare him. Soon other girls from Seiren start befriending Yukinari as they go on exploring different places on the earth.
Continue reading:
10 Best Ecchi Manga You Should Read Right Now
6 Anime Like Peter Grill and the Philosopher's Time
6 Anime Like Monster Girl Doctor (Monster Musume no Oishasan)