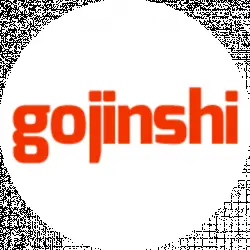 Latest posts by Gojinshi Team
(see all)
Anime like If It's for My Daughter, I'd Even Defeat a Demon Lord (UchiMusume) which is a combination of fantasy and a slice of life is the best thing that can happen. As tons of new anime come every season usually in the action and adventure genre. Anime fans are always in an intense mood while waiting for the next episode. During this period, the slice of life anime always plays a therapeutic role. If It's for My Daughter, I'd Even Defeat a Demon Lord is the brain healing anime of this season.
The anime follows the story of Dale, a highly skilled adventurer who has made quite a name for himself despite his young age. During a job in the forest, Dale founds a little devil girl almost wasted. Unable to leave her like this to die, Dale decides to take her with him and becomes her adoptive father. There his life begins as a father of cute Latina who is beyond adorable.
If you are looking for anime like If It's for My Daughter, I'd Even Defeat a Demon Lord to blow off some steam and relax your brain then don't worry you are in good hands.
Here is some good slice of life anime similar to If It's for My Daughter, I'd Even Defeat a Demon Lord.
Anime Similar To If It's for My Daughter, I'd Even Defeat a Demon Lord:
01. Usagi Drop (Bunny Drop)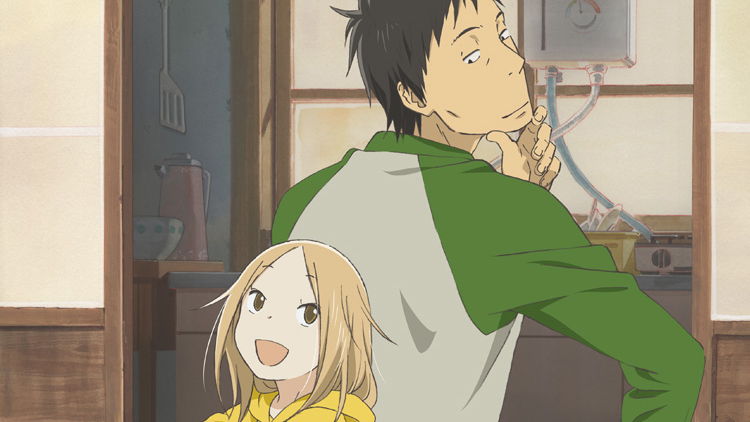 When Daikichi Kawachi's grandfather suddenly passes away. He returns to the family home to pay respect. There he finds out that his grandfather has an illegitimate daughter named Rin. The entire family considers Rin as an embarrassment and refuses to look after her. After seeing the coldness towards Rin, Daikichi announces that he will take care of her. The anime follows the story of Daikichi experiencing fatherhood as he raises Rin.
---
02. Amaama to Inazuma (Sweetness & Lightning)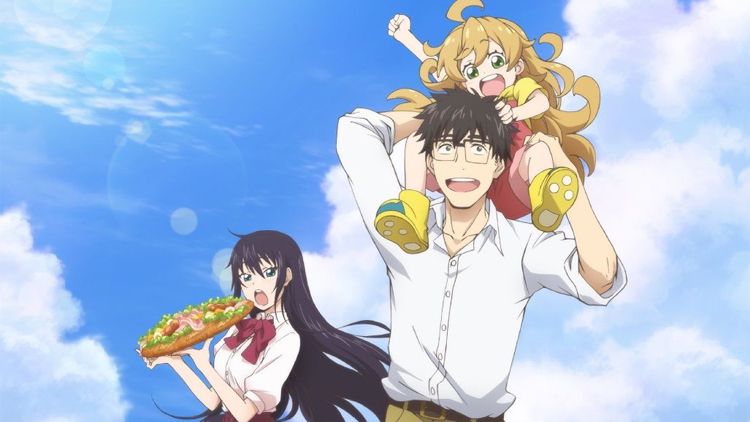 After the death of his wife, Kouhei Inuzuka takes care of his very young daughter named Tsumugi to the best of his abilities. The only problem is that Kouhei doesn't know how to cook and has a daytime job as a teacher. Because of this, he has to often rely on ready-made meals to feed Tsumugi. After being frustrated for not providing nutritious and healthy food to Tsumugi, Kouhei takes an offer from his student named Kotori Iida of eating dinner at her family's restaurant. There he discovers that Kotori often eats dinner alone as her mother being away for work. He also discovers the true meaning and value behind cooking and eating with family while trying his hardest to make his little daughter happy.
---
03. Udon no Kuni no Kiniro Kemari (Poco's Udon World)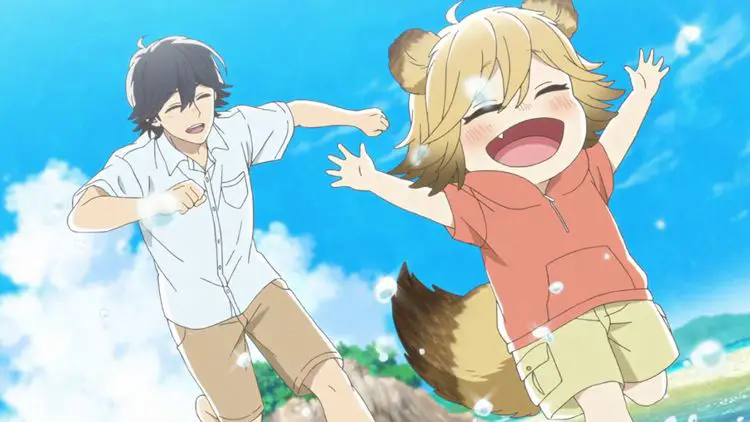 Souta Tawara returns to his hometown to take a break from his job. While reminiscing the old memories of his childhood, Souta enters their family-owned udon restaurant. There he finds a young boy sleeping inside a cooking utensil. At first encounter, Souta provides the boy with food and clothing. However, to his surprise, the boy suddenly grows a furry pair of ears and a tail. Souta soon discovers that the nameless boy is the rumored shapeshifting tanuki that has been living near his hometown for many years. He feels sad for the boy who has been living a lonely life and decides to take him in and name him Poko. The anime follows the heartwarming relationship between Souta and Poko.
---
04. Barakamon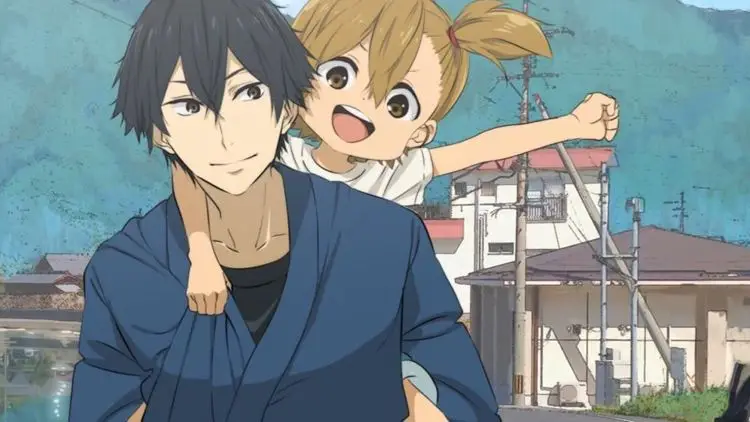 Despite his young age, Seishu Handa has earned a name as a calligrapher. But during an exhibition, an elderly criticizes his calligraphy for being too unoriginal. The remark makes Seishu angry and he punches the elderly. Because of this, Seishu father exiles him to the Goto Islands. There he meets lots of interesting villagers which includes a bunch of kids and teens that help him discover his style.
---
05. Gakuen Babysitters (School Babysitters)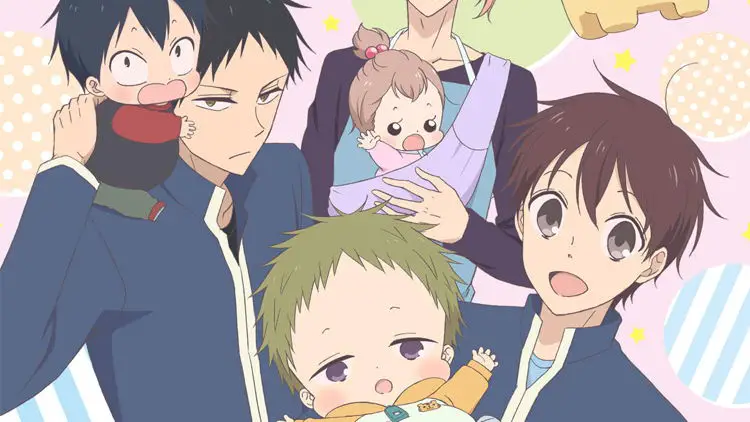 After losing their parents in a plane accident, Ryuuichi Kashima and his toddler brother Kotarou are left orphaned with no place to call home. Youko Morinomiya, chairwoman of the elite Morinomiya Academy offers to take the boys into her care. She only has one condition that Ryuichi must help out with the school's daycare center while attending the school. Now Ryuuichi is responsible for his little brother as well as other handfuls of toddlers
---
06. Non Non Biyori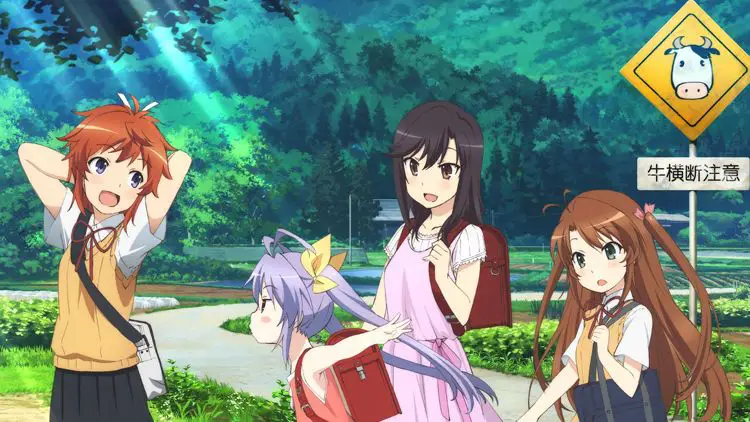 Asahigaoka is a small town village in the countryside. The place lacks a lot of modern-day conveniences that people in the city are accustomed to. But that doesn't stop these four students enjoying their youth. Soon they are joined by Hotaru Ichijo, a transfer student from Tokyo who discovers the joy of living in the countryside.
Also Read: 6 Anime Like Arifureta Shokugyou de Sekai Saikyou, 6 Anime Like Adachi and Shimamura, 6 Anime Like Bungou Stray Dogs