Latest posts by Shen Anigan
(see all)
Harem is a very popular anime plot device with a significant setup for romantic comedy and fanservice. Harem genre usually takes the protagonist, who is pretty awesome but is oblivious or unfortunate in love with hardly any noticeable aspects, suddenly have girls competing for his attention. Traditional harem anime features polygynous relationships with a boy surrounded by more than two or more female characters. The girls in the harem genre desperately compete with other girls for the protagonist's attention. Just flip the genders, and you've got reverse harem anime, instead of one boy with several girls, it's one girl with several boys.
Reverse Harem features a female main character who is liked and surrounded by multiple male characters. Reverse Harem anime typically centers around the very average but sweet girl who lives a very normal life or is maybe struggling through some familial problems, and then suddenly, she meets multiple guys through unusual circumstances who started to fall for her.
The term reverse harem may sound similar to usual Harem only flipped. However, there are several differences, as the majority of stories in Reverse Harem anime usually end up with the main female character, finally choosing one male character. Reverse harem at the core is always a setup for the main romance part in the story.
There is more to reverse harem anime than guys fighting over the same girl they all like. If you are a lover of the risqué sizzling reverse harem anime and want to watch some more, then don't worry, you are in good hands. Here's the list of best reverse harem anime that you should watch right now.
Best Reverse Harem Anime
01. Ouran Koukou Host Club (Ouran High School Host Club)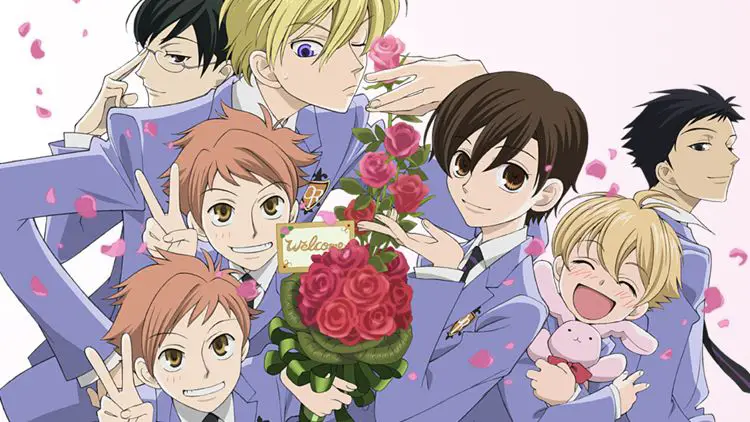 Buy/Stream On: Funimation, Netflix, Tubi
Haruhi Fujioka is a poor student who got a scholarship to attend the prestigious Ouran High School, an elite academy attended by rich kids. One day while trying to find a quiet place to study, she stumbles into the abandoned music club which is now occupied by a Host Club. The members of the club are six handsome boys with too much free time as they gather to entertain girls in the academy with sweets and tea.
When the hosts tried speaking with Haruhi, she accidentally destroys an antique vase valued worth eight million yen. To repay the enormous debt, she agrees to work for the club. Due to her masculine appearance, which even led the club members to mistake her as a male student convinced them to make her a full-time host. Follow Haruhi as she dives into the lives of these wealthy students and their daily shenanigans.
02. Akatsuki no Yona (Yona of the Dawn)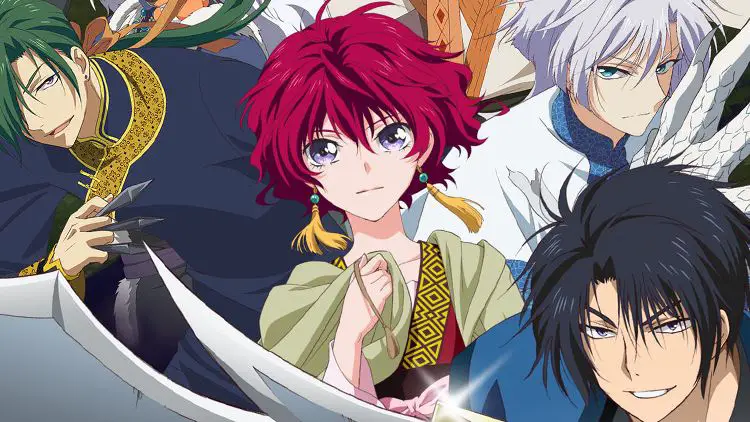 Buy/Stream On: Crunchyroll, VRV, Funimation
Princess Yona lives a carefree sheltered life in Hiryuu Castle with her peaceful father. But it all changes on her sixteen birthday when she witnesses her father's death in the hands of her cousin Su-won. Luckily, she manages to escape from the castle with the help of her childhood friend and bodyguard, Son Hak. All her life, Yona believed that her Kingdom of Kouka was a peaceful and prosperous land, and now that she is outside her castle, she witnesses it's the true state.
The Kingdom of Kouka is rampant with corruption and poverty, which will make it even hard for Yona to reclaim her throne. She flea's to Hak's birthplace, Fuuga, the capital of the Wind Tribe. There she learns about the Four Dragon Warriors who, in the past, reunited the kingdom. From here begins a journey of self-discovery for Yona in her efforts to find the warriors and take back her country.
03. Saiunkoku Monogatari (The Story of Saiunkoku)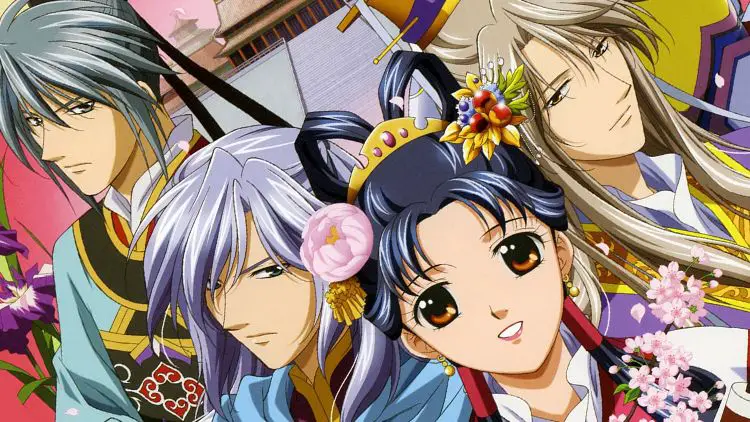 Buy/Stream On: Unknown
Shuurei Kou comes from a noble family, but due to her father's position as the archivist in the Imperial library, she is not as wealthy as other nobles. To make ends meet, she teaches young children and plays live music at the restaurant. Even after doing different odd jobs, she is still not able to make enough money.
One day, Shuurei receives an offer to become the concubine of the new emperor. Her job requires teaching the emperor how to become a good ruler. With the rumors that the new emperor is only attracted to men, Shuurei accepts the offer without hesitation. As she starts spending more time in the court, it ignites her old dream of being a court official. The only problem is that women cannot become government officials.
04. Hanasakeru Seishonen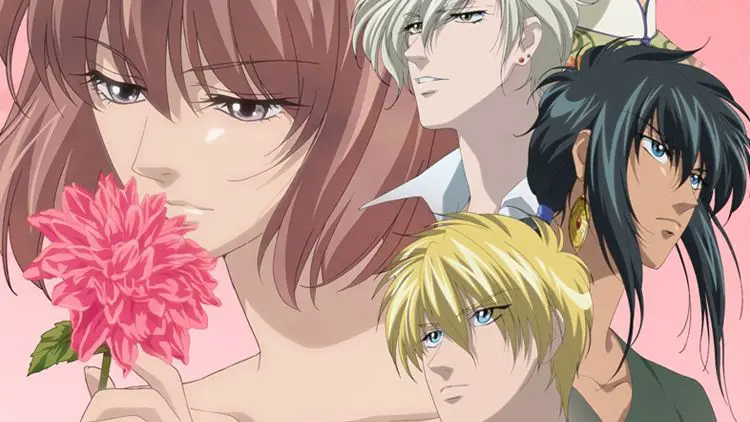 Buy/Stream On: Crunchyroll, VRV
Kajika Burnsworth is the only daughter of powerful industrialist Harry Burnsworth. She spent most of her life living on an isolated island to be safe from any harm due to her father's influence. Now that Kajika is fourteen years old, she returns to her father's side only to be talked into the marriage game.
Harry has selected three future husband candidates for Kajika. But the catches is that she will not know their identity. Even the candidates don't know about being secretly selected by Harry, turning this into a game. The only clue Kajika has about these three men are that all of them are charming and brilliant.
05. Fruits Basket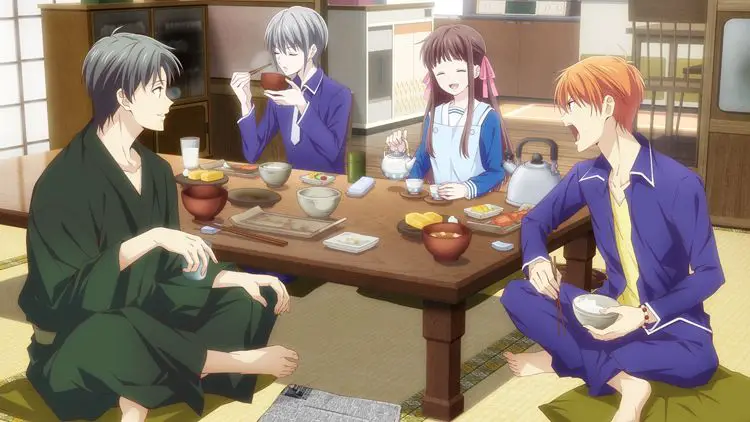 Buy/Stream On: Crunchyroll, VRV, Funimation
After her mother's death, Tohru Honda decides to live with her grandfather. But due to ongoing renovations of the house, she resorts to living in a tent because of unkind family members. Tohru lies to her grandfather by telling him that she will be living at her friend's house. One day, when returning from work, she found even her tent destroyed after getting buried underneath a landslide. Luckily Shigure Souma and Yuki Souma, two students from her school, were passing by the scene.
After learning about Tohru's situation, they invite her to their house until her grandfather's home renovations are complete. The first day Tohru moves into the Sohma house, she discovers their family secret. The Souma family members can turn into their zodiac animals when they are weak or get hugged by the opposite gender. She promises not to reveals their secret and continues living in their house while meeting new members of the zodiac family.
06. Kiniro no Corda: Primo Passo (La corda d'oro: primo passo)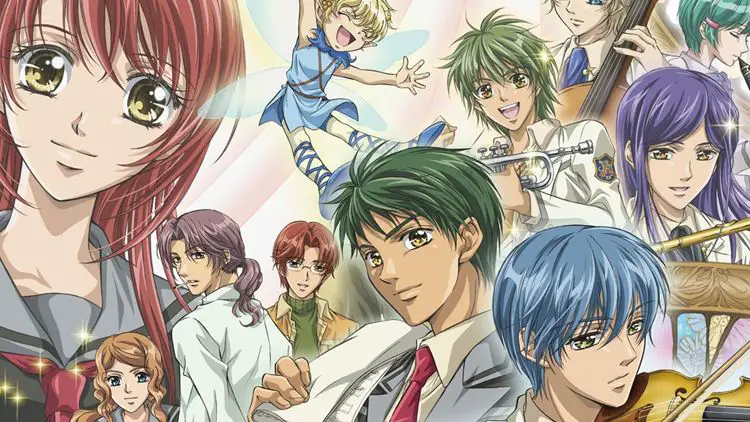 Buy/Stream On: Crunchyroll, VRV
Seiso Academy is a school with two different branches. General Education department is a branch for normal students, and the Music department is a branch for music students. It's a school tradition to hold music competition with competing students are usually from the music department. Hino Kahoko is a student from a General Education department who one day starts seeing a musical fairy named Lili.
The next day, the school announces the names of the entrants in the annual musical competition. Surprisingly Kahoko's name appears on that list even though she doesn't play any musical instrument. Upon seeing this, Lili grants her a magical violin that anyone can play if they genuinely believe in it. Reluctant at first, Kahoko enters the competition and goes on to compete with musically talented students.
07. Hakuouki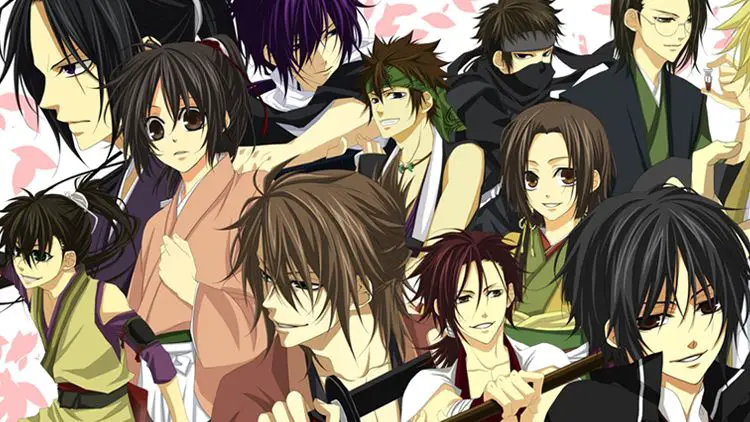 Buy/Stream On: Crunchyroll, VRV
Chizuru Yukimura is a young woman traveling to search for her missing father. Her father is a well-known doctor who often travels from place to place. After receiving no words from her father for months, Chizuru disguises herself as a man and goes to Kyoto to search for him. In Kyoto, she gets attacked by a mad man but luckily gets saved by members of the Shinsengumi. The Shinsengumi takes Chizuru into custody to interrogate her.
After learning about Chizuru's father, the Shinsengumi decides to keep her at their side as they are also searching for him as well. As she starts spending more time with Shinsengumi members, she begins to bond with them and learns about the ongoing political tension in Kyoto that is caused due to her father's medicine.
08. Kamigami no Asobi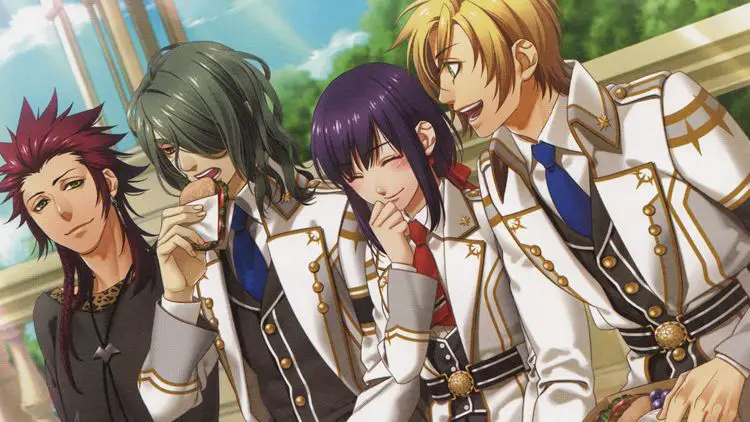 Buy/Stream On: Crunchyroll, VRV, HIDIVE
Yui Kusanagi is a normal human being and the daughter of a Shinto shrine. One day she discovers a mysterious magical sword that transports her to a different world. Upon her arrival, she meets the Greek god Zeus who has invited her to attend the school he has created in his world. Zeus wants Yui to teach what it means to be a human to the young gods that will attend the school along with her.
The bond between the divine world and the human world is weakening. It has resulted in these handsome young gods losing their abilities to interact with humans. It is now Yui's job to reverse this weakening bond and show the gods the meaning of compassion and love. But if Yui fails to complete her task, she will be forced to live in the divine realm forever. From here begins the curious school life for Yui and various gods.
09. Uta no Prince Sama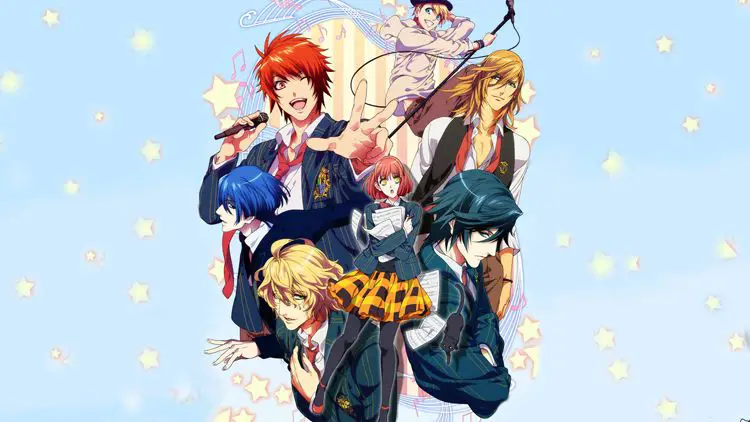 Buy/Stream On: Crunchyroll, VRV
Haruka Nanami is an aspiring composer who dreams about writing music for her favorite Idol, Hayato Ichinose. She takes the first steps towards her dream by joining Saotome Academy, the prestigious entertainment school. She is one of the 200 successful applicants who have joined the composer course at the academy.
The school pairs each aspiring songwriter with an aspiring Idol for a group project, which will result in getting recruited by the Shining Agency after graduation. In the case of Haruka, she gets paired with six handsome boys who are also aiming to become idols. The competition is fierce, with stakes incredibly high, and Haruka is ready to overcome any difficulties in achieving her dream.
10. Dance with Devils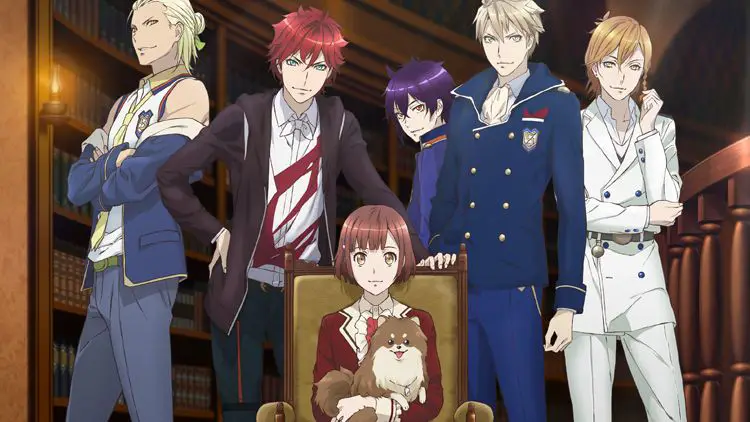 Buy/Stream On: Funimation, Tubi
Ritsuka Tachibana is a good student who shockingly gets summoned by the student council for being a troublemaker. But it soon gets revealed that the council has their ulterior motive when they start questioning her. She soon finds herself in the middle of an entanglement between demons and devils.
Demons and Devils are searching for a powerful item called Grimoire, which will grant its owner the power to rule the world. And for some reason, Ritsuka is the final key to find the location of the Grimoire. The student council members at Ritsuka's school are handsome but dangerous demons who all are seeking Ritsuka's attention to get their hands on the Grimoire.
Continue reading:
10 Best Isekai Harem Anime You Should Watch Right Now