Latest posts by Martha Mitchell
(see all)
Anime is a medium that manages to speak directly to so many souls in a unique way. The mesmerizing art and all-engulfing plots draw the audience into a world as to yet unknown, but in so many cases can hold up a mirror to the viewer in ways never thought possible. Here are some, quotes from anime that have had a profound effect on my life in various different ways. 
The Beauty of Ghibli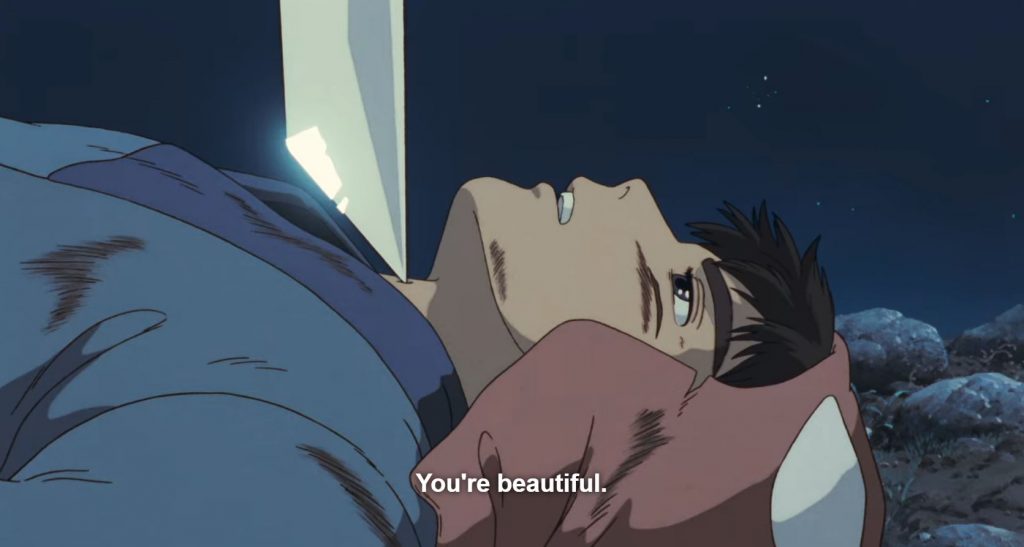 For many, especially in the English-speaking part of the world, the first experience of anime comes in the form of Ghibli. Ghibli movies are awash with quotes that have touched the lives of millions, and each film could warrant its own quotes article. A brilliant and well-put-together synopsis of all the Ghibli movies can be found here if you need a quick catch-up.
For me, Princess Mononoke was an intense personal awakening, and one of my favorite Ghibli quotes is a very simple line from the 1997 movie. 
'You're beautiful' 
These two words spoken by Ashitaka as he lies injured on the ground with San pointing her knife at his throat threw me as a viewer as much as it ruffles the seemingly unshakable San. As a misfit teenager, these two words were the dawn of the realization that traditional beauty standards are ridiculous, and started the long process of embracing myself. It also shows how the raw power of an unexpected declaration can stop even the wildest rage in its tracks.
The Love Confession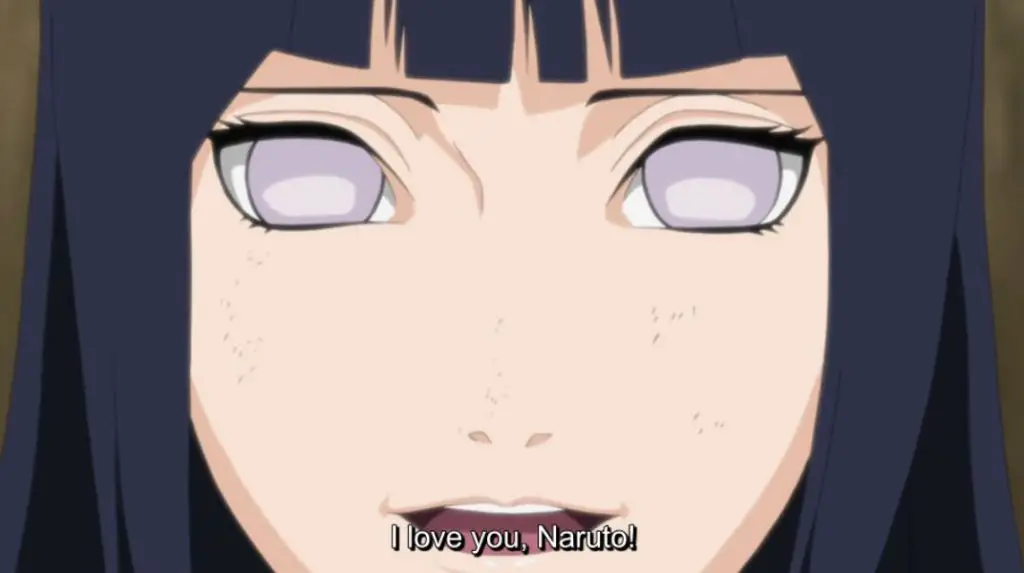 Many of the most powerfully emotional quotes from anime come in the form of a rather unusual Japanese phenomenon – the love confession. Known as the kokuhaku, this tradition can be a little surprising to the non-Japanese audience. The dating process often begins with one party confessing they love the other, which can seem a little backward to English speakers. Unusually, English only has one word for love. This can prove disastrous, as whatever kind of love is being referred to, be it platonic, romantic, or familial, burgeoning or serious, love is the only word available. Japanese, on the other hand, has many words to describe different types of love. The word used in a confession is 'suki', pronounced a little like the English word 'ski', and can be likened a bit more to like rather than love. The same word is used in other situations, like when saying 'I like ice cream', for example. This doesn't take away the spectacular nature of many anime love confessions. One that stands above all others is Hinata's confession to Naruto. Hinata comes to Naruto's aid, remembering all the times he has protected her. He begs her to leave saying this is his fight and knowing that she isn't powerful enough. But Hinata is beyond determined and fights on. 
'That's why I'm not afraid to die… if it means I can protect you! Because… I love you, Naruto!'
The dramatic circumstances of this incredible declaration have given it fame as one of the most famous love confessions of all time. Of course, a beloved and long-running show like Naruto has a lot more emotional clout than just one love confession. For a deeper dive into Naruto quotes check out this article.
New Historical Perspectives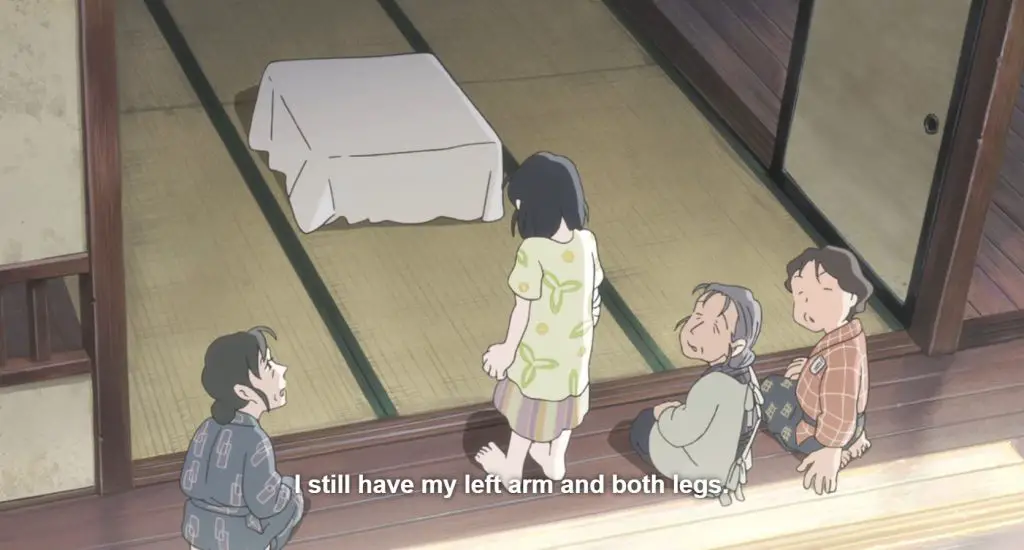 One thing I never expected from anime was to give me a new perspective on historical events which I thought I knew inside out. But that is exactly what I found in the heart-rending movie, In This Corner of the World. Like any British kid, I was extensively educated on the second world war. Unlike most people my age, due to the large gaps between generations in my family, all of my grandparents were adults during that time and actively involved in some manner. So I felt I knew the majority there was to know about the conflict, on both a historical and emotional level. Boy was I wrong in this assumption. Like all acquired knowledge, it is biased, even unintentionally, by those that teach it. The way I saw the war was through very Western eyes, yes there was pain and suffering, but there was hope, and finally, glory. 
In This Corner of the World showed me those that went through that same pain without the pay-off of glory. I was prepared to find the film upsetting and unsettling because of the subject matter, but never did I expect to find a whole new way of thinking about a time that shaped so much of how the world is today. This spurred me to read more about Japan during the war, including this brilliant book by Samuel Hideo Yamashita.
The quote that hit home the most is spoken by Suzu, after hearing the broadcast that Japan has surrendered –
'They said fight to the end! There's five of us still here! I still have my left arm and both legs.'
Her pain and anger bleeds through the beautiful art in a contrast that is incredibly gripping. 
Writing to Deal with Loss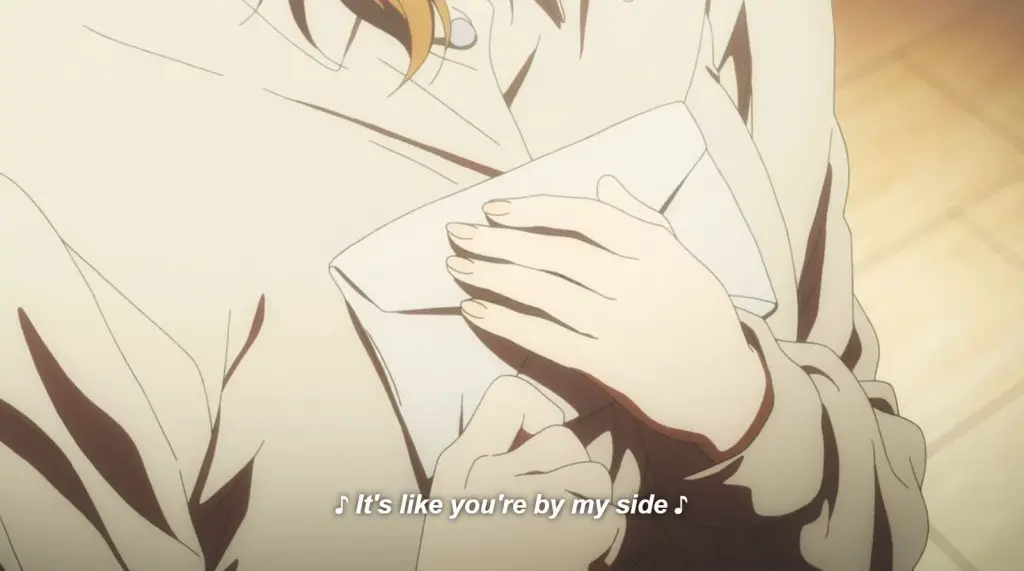 In an anime all about finding the right words and how writing can play a big part in human communication, it was hard to find only one quote to add to this article, as Violet Evergarden is full of profound and moving moments. But one stands out above all others, in the form of the song Violet writes for a grieving opera singer in the special episode.
'Love is always in a sunshine-filled place. Even if I can't see you, can't touch you, it's like you're by my side.'
The song represents a break in time for all those emotionally broken by the loss during the fighting, and hope for all those grieving to be able to find some solace. Set in a country that has been ravaged by a horrendous war, this song has become started to represent a healthy way to move on from grieve for many around the world. The stark and sudden loss of those at Kyoto Animation gives this song extra poignance. 
With the movies and special episodes, finding your way with Violet Evergarden can get a little confusing, this guide is a good place to start and will help you simply drink in the emotion and not be confused by the timeline of events!
New Cultural Experiences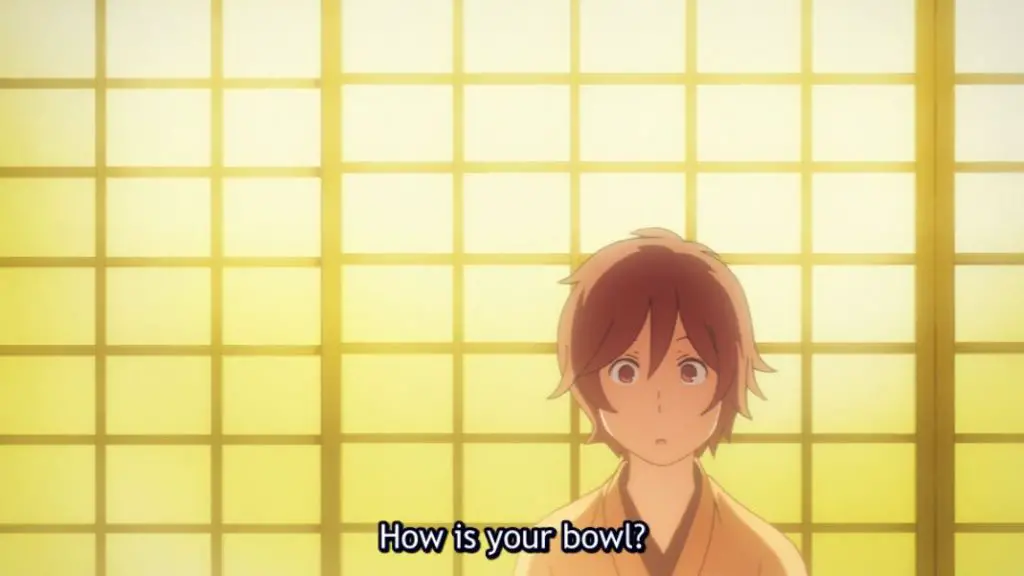 One thing anime does, often in a very suitable way, is welcome the viewer into an as of yet unexplored culture. Japan has so many unique cultural elements that are so often portrayed in simple and unassuming ways. The tea ceremony was introduced to me in this way, in an anime from 2012 called You and Me. This slice of life is about five high school boys and their friendship. It's very chill and deals with everyday adolescent issues, but the love between the five really shines through. Especially in one line in particular – 
'How was your bowl?' 
This is the traditional question asked by the host of the tea ceremony, and Yuta shows his appreciation of his childhood friend Shun with the simple act of making him tea. The tea ceremony is performed in a simply decorated room and every action and detail is designed to enhance the peace of the overall experience. Yuta knows the stress and confusion Shun is feeling, and this simple question adds to the process of reassuring his friend. This brilliant anime has been somewhat forgotten about, which is a shame. It's so easy for sparkling shows to slip through the cracks, for more examples of things you may have missed check out these recommendations of underrated anime.
To end, here's a quote you've probably seen before but maybe didn't know it was uttered by the immortal Spike Spiegel from Cowboy Bepop – 'I love the kind of woman that can kick my ass'. Spike never disappoints in his directness!
Continue reading:
15 Best Thought-Provoking Pain Quotes From Naruto